"This recipe is adapted from The El Molino Cookbook that I've had for a million years!This has the potential to make 3 loaves and is the ONLY recipe I use for whole wheat bread.It is the moistest I've ever had and because honey is a natural preservative it has a longer shelf life. You can add a little more honey and make amazing dinner rolls or cinnamon rolls.The cookbook states "the same natural ingredients but a new improved method that gives a higher, lighter loaf." Yes, this rises 3 times! I use the quick acting yeast and am able to make 9 loaves in a day without stressing out.You can substitute about a cup of the whole wheat flour with a cup of white bread flour but I rarely do.Enjoy!"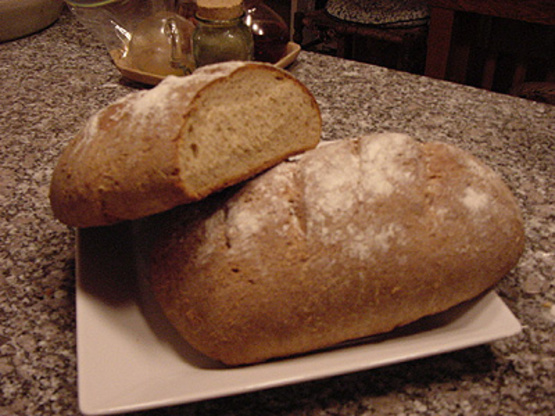 100% Honey Whole Wheat/Cracked Wheat Bread
2 recipe photos
Directions
In the bowl of your electric mixer (I use a KitchenAid ) dissolve yeast in warm water. Add milk, honey, oil, salt and eggs. Mix until blended.
Add 2 1/2 cups of the flour and beat for 3 to 4 minutes. Cover bowl with plastic wrap or a warm towel and allow sponge to rise in a warm place until doubled in bulk, about 30 minutes.
Mix in remaining flour reserving 1/2 C for kneading. At this point you may add the softened cracked wheat if desired. This may seem a little stickier than you may be used to but as long as your fingers don't stick in the dough you have the right amount of flour.
Turn out onto floured board or counter top or use the dough hook from your mixer. Knead for 8 to 10 minutes until elastic and smooth.
Put in a large buttered bowl and let rise in warm place until doubled in bulk.
Punch dough down. On lightly floured board or counter top divide into 3 equal portions. Shape into loaves and place in buttered loaf pans approximately 8" X 4".
Cover and let rise for the third time until doubled in bulk.
Bake at 375 degrees for 30 - 35 minutes. The bread tests done when the crust make a hollow sound when tapped.
Remove from pans and brush with melted butter. Cover with a hot damp towel to soften crust if desired.