"I haven't bought a loaf of store bought bread for almost a year and have experimented with quite a few recipes. I made this recipe up, after having a few doorstops, and now pretty much use this recipe all the time. It comes out very light, and tastes like white bread!"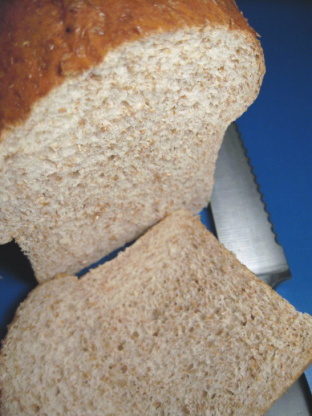 100% Whole Wheat Bread
1 recipe photo
Directions
Add the first four ingredients into Bosch bread mixer along with FIVE cups of flour.
Mix briefly.
Let sit for 20 minutes to proof yeast. (I know it sounds weird to proof instant yeast but this works).
After 20 minutes the mixture should be quite high, if not, throw out and start again with new yeast.
Then add the next three ingredients with 7 cups of flour.
You might use more or less flour but mix in one cup at a time until dough is sticky but not dry.
I add the gluten flour because, as far as I know, whole wheat flour has very little gluten and bread just won't rise well without it -- believe me I've tried and ended up with doorstops, reeeeeealy heavy doorstops!
After adding the last of the flour turn your Bosch down to 1 and knead for 7 minutes (I picked 7 just because it's a lucky number). I'm sorta fanatical about the size of my bread so I weigh my dough, roughly 750 grams for whole wheat bread.
I get 5 full size loaves and 1 smaller one with this recipe.
I bake it on convection bake for about 25 minutes at 350 degrees in greased pans. It doesn't taste like whole wheat and has a very light texture.