Community Pick
100% Whole Wheat Bread (Non-Dense/Heavy, White Bread Texture)
Want more from Genius Kitchen?
Watch on your Apple TV, Roku, or Fire TV and your iOS, Fire, or Android device.
Learn More
"I hate dense/heavy whole wheat bread. However, I was told to keep my blood sugar level I had to eat complex carbohydrates. It began my search for a pure whole wheat bread that I could eat as a sandwich and enjoy it all. Two notes: the vital wheat gluten and kneading time are crucial! You must do them or it won't work. Also, I am at a high altitude of just over 4,200 feet so adjust for where you live."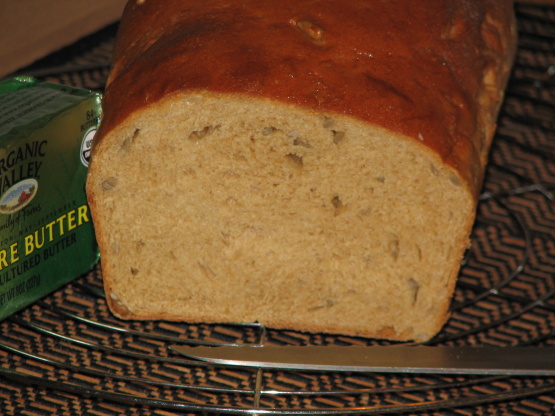 100% Whole Wheat Bread (Non-Dense/Heavy, White Bread Texture)
3 recipe photos
Directions
The Sponge: In your bread mixing bowl put the yeast, 3/4 cup water, and the cup of whole wheat flour, mix until combined then cover with plastic wrap and a towel and let it sit for 45 minutes to an hour in a warm place. It should be bubbly.
The Dough: Add the 2 cups water, 2 cups whole wheat flour, dry milk, wheat gluten, salt, sugar and oil. Mix until combined.
Here's where you learn how to make bread. Start to add your remaining flour. I add one cup at a time but you can do it by the half a cup. 2 cups might be enough but it could go up to 4 cups. Fully incorporate the flour you add before adding more.
Whole wheat bread will still be a little sticky and a little stiff, carefully judge when you think you have enough. Once you make bread enough you'll know when it's enough flour. You can always add more flour when you're kneading.
Kneading: By hand, 20 to 30 minutes. In a mixer, 10 minutes. I suggest the bread mixer. The first time I made this I did it by hand. Because whole wheat is heavier I could only last about 2 minutes. I baked it but this was not a light textured bread. The second time I did it for 10 in my mixer… wow what a difference.
Rising: Once your dough is kneaded your going to coat it all over in a little oil and stick it in a bowl that will let it rise at least one and a half times it's size. Now you're going to cover it with plastic wrap and a towel, put it in a warm place and let it rise for 45 minutes to an hour. It should have risen over double it's size.
During this rising time you want to spray or butter two bread pans. I use Pyrex 9"x5".
Shaping, Last Rise, and Baking: When your dough is ready dump it out and push the bubbles out of it. Divide it as equal as you can. Flatten each piece out to a rectangle about the size of the pan then roll it up tight and pinch the seams together tucking the ends inches Turn over and put in the pan seam side down.
Put the loaves in a warm place and cover with a towel, let them rise from 30 minutes to an hour. You want your loaves to be at least 2 inches over the top of the pan, nice and high, they won't rise anymore in the oven. Preheat your oven to 375 degrees. Bake for 15 minutes then lower the heat to 350 and cook for another 20 minutes. They will be a deep brown.
Take them out and remove them from their pans and cool on a cooling rack. Enjoy!
get the genius kitchen app.
Watch on your iPhone, iPad, Apple TV, Android, Roku, or Fire TV.
Learn More