"This is the 100 percent whole wheat bread from the cookbook "Healthy Bread in Five Minutes a Day" by Jeff Hertzberg and Zoe Francois. It makes enough for four 1-pound loaves. If you are familiar with the book, you know that the principle is to make a big batch of dough, then grab off pieces each day (or so) to bake hot and fresh. They also say whole grain spelt can be substituted. In addition, they offer more recipes, photos, videos, etc. at www.healthybreadinfive.com. I would just like to mention that the cookbook is great for the wealth of background information and a huge variety of recipes. It's great to read, so even if you find the recipes you like online, if you have even a little interest in bread making, you will enjoy the book immensely!"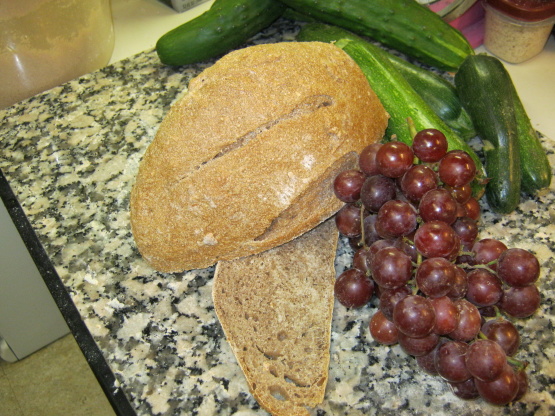 100% Whole Wheat Bread, Plain and Simple (No-Knead)
4 recipe photos
Directions
Whisk together the flour, yeast, salt and vital wheat gluten in a 5-quart bowl, or a lidded (not airtight) food container.
Add the water and mix without kneading, using a spoon. (You might need to use wet hands to get the last bit of flour to incorporate.).
Cover, not airtight, and allow the dough to rest at room temperature until is rises and collapses (or flattens on top), approximately 2 hours.
The dough can be used immediately after the initial rise, though it is easier to handle when cold. Refrigerate it in a lidded (not airtight) container and use over the next 10 days.
On baking day, dust the surface of the refrigerated dough with flour and cut off a 1-pound (grapefruit-sized; 450 grams) piece. Dust the piece with flour and quickly shape it into a ball by stretching the surface of the dough around to the bottom on all four sides, rotating the ball a quarter-turn as you go.
Allow the loaf to rest, loosely covered with plastic wrap, on a pizza peel prepared with cornmeal or lined with parchment paper for 90 minutes (40 minutes if using fresh, unrefrigerated dough). Alternatively, you can rest the loaf on a silicone mat or greased cookie sheet if you don't have a pizza peel.
Thirty minutes before baking time, preheat oven to 450F (230C). Place a baking stone on the middle rack. Place an empty metal broiler tray on another rack.
Just before baking, use a pastry brush to paint the top with water. Sprinkle with your favorite seed mixture. Slash the loaf with 1/4-inch deep parallel cuts using a serrated bread knife.
Slide the loaf directly onto the hot stone. (Or place the silicone mat or cookie sheet on the stone.) Pour one cup hot tap water into the broiler tray and quickly close the oven door.
Bake for 30-35 minutes, until richly browned and firm. If you used a mat or cookie sheet, remove it and bake the loaf directly on the stone for the last third of the baking time.
Allow the bread to cool on a rack before slicing and eating.
Variation: Honey whole wheat sandwich bread.
Add 1/2 cup honey and decrease the water by 1/2 cup. Bake a 2-pound (900 g) piece of dough in a loaf pan at 350F (180C) for 50-60 minutes.