Want more from Genius Kitchen?
Watch on your Apple TV, Roku, or Fire TV and your iOS, Fire, or Android device.
Learn More
"Save your money and shop wisely! I was able to make 32 home-made, yummy hamburgers ("quarter pounders") for $32.00. I've cut this recipe down to 8, for family portion size. Make however big or small of a batch you may need. For the 32 burgers, I purchased the following: 8 lbs of 80/20 ground beef @ $2.19/lb ($17.52), 1 lb bacon @ $3.49/lb, 2 - 8oz blocks of cheese @ 2/$4.00, 2 heads of iceberg lettuce @ $0.69/ea ($1.38), 4 large tomatoes @ $0.49/ea ($1.96), 4 - 8ct pkgs of buns @ $0.89/ea ($3.65). My grand total was $32.00 exactly! The key to this is to buy everything when it is 'on sale', and "FREEZE IT"!!! (Okay, you can't freeze the veggies, but all else you can). I hope this recipe comes in handy for anyone wanting to feed a crowd. And it sure beats the "Value Meal" burgers, and these are so much better! I created this (on very short notice), to feed to a group of 30+ men that were staying at a local church for the evening. They loved the burgers, so I was happy. I hope you enjoy!"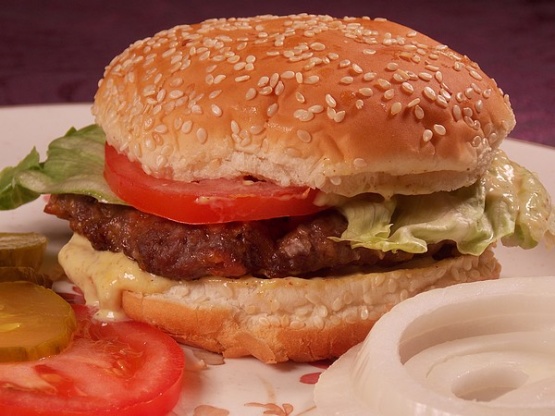 8 for $8 - Broiled BLT Burgers for a Bunch
4 recipe photos
Directions
Dice bacon into small pieces and fry in a skillet until just done, but not crispy. Use a slotted spoon and place bacon bits onto a paper towel lined plate to drain and cool.
In a large bowl, combine the hamburger, cooled bacon bits, dried minced onion, seasoning salt (if using), and the cheese. Mix thoroughly. and divide the mixture into 8 - 1/4 pound patties. (Make patties slighty larger than the buns, and using your thumb, press a divot into the center of each. This will keep the patties from getting plumped in the center and make for more even cooking). Place the patties onto a wax paper lined sheet pan and cover with plastic wrap. Place the sheet pan into fridge for approx 2 hours (this will get the dried onions to soften), OR: You could place the sheet pan in the freezer for an hour and then wrap each patty in wax paper and put them all in a zip-lock bag to keep in the freezer to use later.
Meanwhile, make the spread by combining the salad dressing and mustard in a small bowl, cover with plastic wrap, and place it into the fridge until needed.
When ready to cook, remove patties from fridge and place on counter to get the chill off (approx 15 minutes). Place an oven rack in the center position of the oven and turn it to the broil setting. Place patties onto a broiler pan, and place in heated oven.
Broil approx 5 - 6 minutes, flip over and broil to desired temp (rare, medium, well, etc). Remove when done, and let rest on top of the stove. Tent the pan with foil. Leave broiler on.
Lay the buns on the center rack, split side up, and lightly toast them. Keep an eye on them, they go quick!
Slather each toasted bun with some of the spread mixture, and add a patty. Top with a leaf of lettuce, a slice of tomato and the top of the bun.
Enjoy!
I'm sure these would grill up just fine on a gas or charcoal grill (its only a burger, right?). I only had the use of 2 ovens/broilers at the church when I cooked these. Also, they do travel well if you pre-make the patties at home and want to take them elsewhere to cook (like maybe camping or a tailgate party).
get the genius kitchen app.
Watch on your iPhone, iPad, Apple TV, Android, Roku, or Fire TV.
Learn More