"I marinated these cornish hens in lime, rum, and honey and then gave them a slow roast! Hope you like them!"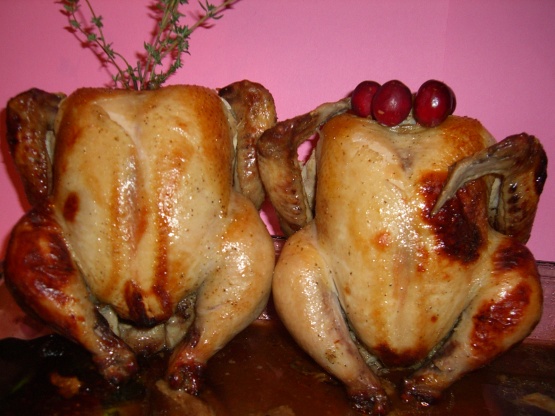 A Couple of Tipsy Chicks
5 recipe photos
Directions
Wash your hens then dry them with a paper towel.
Mix together all other ingredients except butter and pour into a large ziploc bag with the cornish hens.
Marinate the hens for a couple of hours, turning the bag once or twice in the fridge.
Preheat the oven to 350 degrees F.
Remove the hens from the plastic bag and place in a baking dish. (line with foil for less clean up) Pour the marinade on top of them.
Rub the butter all over the hens.
Put a little foil on the leg tips and wing tips or you can tie and tuck them to keep the tips from burning.
Roast the hens for 1 hour and 15 minutes until a meat thermometer reads 175 to 180 degrees when placed in the dark meat.
Let the hens rest, covered with foil, for 10 minutes then serve!