"This is a basic recipe to add anything you want as far as seasoning goes to make the most wonderful baguettes or rolls. From cheddar dill to sun dried tomato with garlic and basil. You name it the options are as endless as your imagination! I use this recipe at our restaurant for specialty sandwiches and even breakfast sandwiches and it is always a hit with the customers! if you are expecting a light and fluffy roll...this is not the recipe for you, it is a hearty roll with a crisp crust."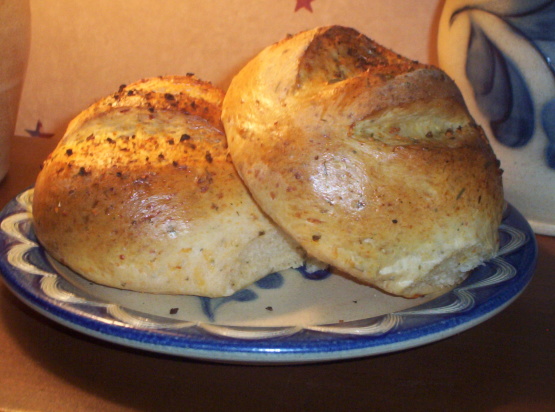 " Add Anything" French Rolls or Baguettes
1 recipe photo
Directions
Place warm water in a large ceramic or plastic bowl.
Add sugar and yeast. let proof until yeast is foamy.
In a very large bowl combine flour with salt.
Add any type of seasonings, cheese whatever you want to the flour mixture. some hints: cheddar and green onion, rosemary and sage, cheddar and dill, Italian seasoning with garlic and Parmesan, roasted red peppers and bacon just to name a few --.
Add yeast mixture to flour and using a heavy spoon mix.
Turn out onto a lightly floured board and knead for 7-10 minutes.
Place dough into a large greased bowl, cover and let rise until double in bulk.
I usually put my oven on warm and turn it off and place the bowl in there. it usually takes about 45 minutes this way to rise.
Punch down and form into rolls place 2 inches apart on baking sheets. If making baguettes: divide dough in half and on a lightly floured board press into a 16x12 rectangle (approx.) cut dough crosswise in half; role up each half of dough tightly beginning at 12 inch side. Roll gently back and forth to taper the ends. Place 3 inches apart on a cookie sheet or baking stone that has been dusted in corn meal.
Make diagonal slices on top of both rolls or baguettes. I like to use an exacto knife.
Cover and let rise again for 30 minutes.
Brush with egg yolk mixture.
Sprinkle on any additional seasoning if you choose.
Bake at 375°F for 20-25 minutes or until golden brown and when tapped it makes a hollow sound.
The yield to this recipe will depend on how big you want your rolls. On average I can get about 16 large rolls from this and about 8 small baguettes.
These freeze really well.