"The secret ingredient in these soft cookies is COFFEE! Just like the French add a dash of black pepper to their chocolate, coffee adds that extra "something" to chocolate chip cookies. You won't be able to place the extra ingredient, but you will definitely feel that something subtle and great is in there. Beware if you are on a diet!"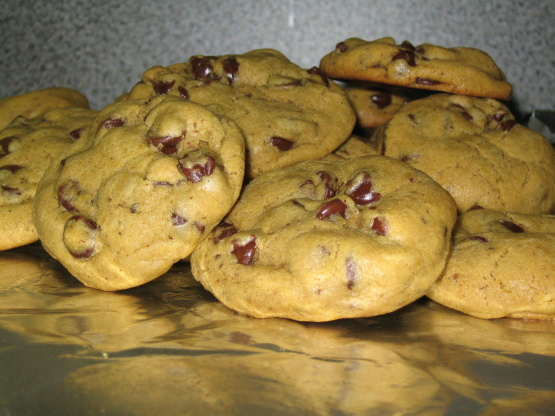 Addicting Chocolate Chip Cookies
5 recipe photos
Directions
Preheat oven to 375 degrees F.
In a large mixing bowl, cream the butter with the sugars until fluffy.
Beat in the egg, vanilla, and instant coffee.
Combine the rest of the dry ingredients by placing them in a plastic container with a lid and shaking them. Then gradually add the dry ingredients, beating them into the butter mixture.
Stir in the chocolate chips.
Roll dough into ping pong-sized balls with your palms and place 2 inches apart on a cookie sheet.
Bake at 375 degrees F. for 8-10 minutes.
Cool on cookie sheet 2 minutes, then place cookies on a cooling rack until almost cooled (the chocolate chips shouldn't be hard when you place them into your cookie jar if you like a soft cookie). The flavor combines overnight, so they are even better the second day (if they last that long)!