"Don't expect a fine dining recipe -- this is rustic, comfort food for the busy cook, which will fill the kitchen with its fragrance as it roasts! I make this dish at least once a week or ten days, and always heave a sigh of relief when I've shoved the entire dinner into the oven in one go and can leave it to cook itself, while I do something more interesting! A salad is all I make as an extra. The vegetables can be substituted with any others, as long as they will roast satisfactorily. I don't like roasting carrots, for example, because they can come out still chewy. The veggies used for Mediterranean roast dishes are best, but use what you have available. As I cook for two, the breast part of the chicken will always be left (we prefer legs and wings) and is very useful for a chicken salad, or chopped up and used in a pasta topping. Note that quantities given are basically for 2 people, so adjust quantities for more, and cut down on the variety because there won't be space in the roaster!!"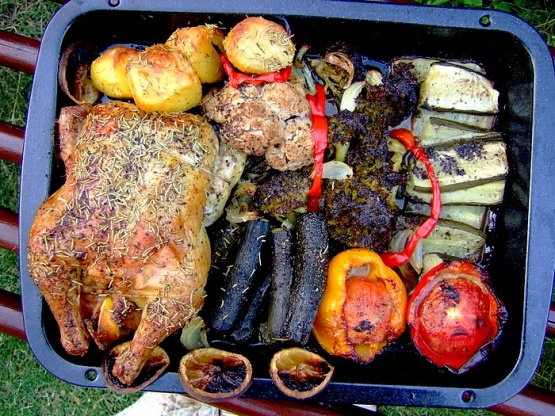 All-In-One Roast Chicken Dinner
1 recipe photo
READY IN:

1hr 40mins

SERVES:

2-3

UNITS:

US
Directions
Heat oven to 350 deg F/180 deg Celsius Use your largest oven roaster -- like the one in the photo, which comes with most ovens.
Clean the chicken of all extra fat and skin flaps. Season inside with salt. If using, put two thick slices of lime or lemon, an onion quarter and 1 - 2 garlic cloves inside the cavity.
Place the chicken in the roasting pan.
Cut the ends off the bell peppers, remove seeds and ribs, sprinkle in a little salt and pepper, and put a peeled tomato in each cavity.
Add the cleaned cauliflower, broccoli, zucchini and cucumber slices (or mushrooms) to the pan.
Add the potatoes and the onion quarters. Sprinkle the chopped garlic over everything, and also use some salt, lightly, over the vegetables and chicken.
For the dressing, mix the olive oil, lemon juice, honey, mustard and some black pepper in a bowl, and whisk well to mix.
Drizzle this over the contents of the roasting tin, and rub some of it all over the chicken. Make sure the potatoes get their share of dressing.
Sprinkle the rosemary over the chicken.
Bake the lot for about 1 1/2 hours. Everything should be done after that, BUT you might have to tent a piece of foil over the roaster halfway through, to prevent bits burning. Take this off again just before it's done, so the chicken and potatoes will brown nicely.
If you make this for 2 people as I do, you will have leftovers, especially of the chicken. It's very handy to use for another dish.