"This recipe's rich caramel and almond flavors make these for a wondefull eating experience. Found on odense.com originally. They are delish!!!!"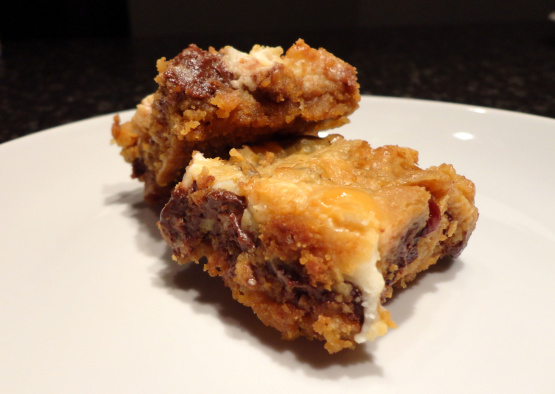 Almond Blondie Bars
3 recipe photos
Directions
Preheat oven to 350ºF and butter and 8x8" baking pan.
Sift the flour, baking powder and salt into medium bowl.
Grate the almond paste(using the large hole side of the box grater)into the flour; add the chocolate chips and almonds.
Mix well until all ingredients are coated with flour.
Rub the flour together with fingertips separating any pieces of almond paste that may have stuck together.
Melt the butter and while still hot, beat into sugar using an electric mixer.
Beat on high until sugar is diessolved and mixture is smooth, not granular.
Add the egg and Amaretto(I used 2 tablespoons); beat until well mixed.
Stir in the flour mixture just until incorported.
Spoon into prepared pan and bake for 25-30 minutes or until slightly golden and toothpick comes out clean,.