"These macaroons are really quick to make, and they are SO yummy! The original recipe was on the label of Solo Brand Pure Almond Paste. Only three ingredients, how easy is that?! But I do add coconut and a cherry on top to make these beauties!"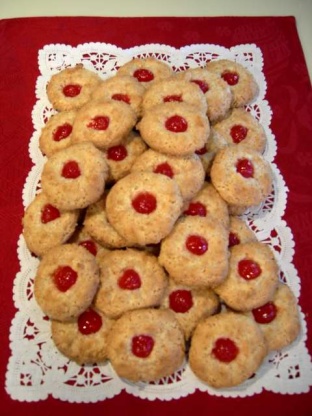 Almond Coconut Macaroons
3 recipe photos
Directions
Preheat Oven to 325 degrees.
Line baking sheet with parchment paper.
Pat the cherries with paper towels to remove excess syrup, and cut in half.
Toasting Coconut: Heat up a non-stick 10-inch skillet over medium-high heat, spread coconut evenly in pan, and stirring constantly, watch as they start to turn golden brown, about 2 to 3 minutes. Set aside.
Break almond paste into small pieces and place in medium-size bowl.
Add sugar and mix with almond paste until evenly distributed. I find a pastry cutter works really well for this.
Add egg whites and mix well. You can use a fork for this.
Mix in coconut until evenly distributed.
Drop almond mixture by rounded teaspoonfuls onto lined baking sheets about one inch apart. I always fit three across and six rows lengthwise.
Press cherry half gently into middle of cookie.
Bake 18 to 20 minutes or until lightly browned. Check after 15 minutes.
Cool completely on the baking sheet on wire racks. Peel macaroons off parchment paper when completely cool. I have a Pampered Chef mini-spatula that slides under them and removes them easily. They just need to be cooled before you attempt to remove them.
Store in airtight container.
Hint #1. To remove almond paste from can, open both ends of the can, using lid on one end to easily push out the paste. (Be sure to buy almond paste, not almond filling. I made that mistake once!).
Hint #2. You can use the coconut without toasting it, but it will look and taste a little different -- but still good!
Hint #3. The original recipe never said to beat the egg whites, but I always scramble them with a fork in a small bowl until they're a little foamy.