"We make these delicious crescents every year for Christmas it is our family tradition. We call them Vanilkove rohlicky in my country and everybody knows them. You can use ground hazelnuts instead of ground almonds. I use almond meal which is same. The dough itself is not too sweet but icing sugar on the top makes them nice and sweet. Texture is similar to short-bread, crispy, crumbly. You can store them in airtight container for weeks."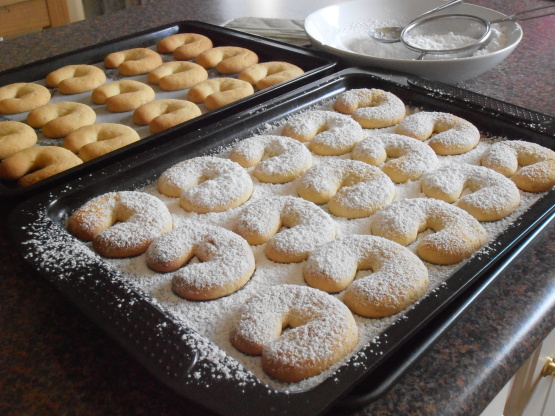 Almond Crescents
2 recipe photos
Directions
Preheat oven to 180C or 160C fan.
Line 2 baking trays with baking paper.
Using an electric mixer, beat butter, icing sugar until light.
Add egg yolk, vanilla beat until combined.
Add almond meal, flour and mix on low speed to form dough.
Shape tablespoon (35g) of mixture into ball and roll on table into small log and turn ends in to have a shape of small crescent.
Place on trays 3cm apart as they will expand in the oven.
Bake for 12min. You don't wont too much color on them.
They will harden up as they cool. So don't try to remove them from tray as they are very fragile at this point.
Leave them on trays for 5min. and while still warm sift over generously icing sugar.