"Professional results, no candy thermometer required! I tested this toffee over and over for a cooking demonstration recently, which is how I discovered it can be made in 17 minutes. Great for gift giving, if you can resist eating it all! I make the batch with half semisweet chocolate, half white chocolate. Milk chocolate never seems to firm up enough. I once overcooked this to a deep nut brown, and suddenly it separated into a sugary mass and a sort of clarified butter. Still worked, though, and tasted great."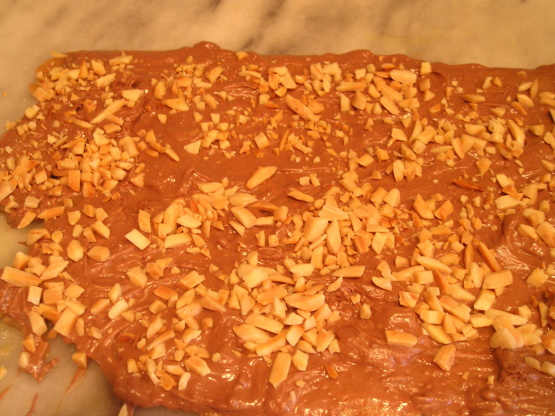 Almond Toffee in 17 Minutes
1 recipe photo
236.59

ml cold butter

236.59

ml sugar

473.18

ml semi-sweet chocolate chips or 473.18 ml chopped white chocolate bark

236.59

ml slivered almonds, toasted to a mid-golden
Directions
Line a 13x9 pan with aluminum foil, leaving about 4 inches overhang over each end for a "handle.".
Toast the almonds in a skillet or the oven to a fragrant golden brown.
Combine the butter and sugar in a saucepan over high heat. Cook, stirring constantly with a wooden spoon (I used a whisk once and it worked fine) until mixture darkens to a nutty golden.
(The process starts slowly, then happens very fast, so when it begins to darken, stir like mad and snatch it off the heat once it's darkened a couple of shades.)
Pour into foil-lined pan, spreading quickly. Let cool about 10 minutes. Top with chocolate or white chocolate. Let melt a few minutes, then spread evenly. Press toasted almonds into the chocolate. Let cool completely, then break into pieces. (Striking it with the tip of a table knife works well for breaking into useful size pieces.).