"I made this recipe based roughly on a few recipes I found and several of my favorite healthy ingredients. Don't want to talk it up too much, but the outcome was a pleasant surprise. My family liked it too, and none of us are the type of people to substitute flavor for health. It does have a few ingredients that you might not find around your kitchen (like chia or diatomaceous earth), even though they are good, healthy foods or supplements that should add to the health value. But I don't think it'd be too hard to omit them or replace with something of similar substance. I would not advise skimping on the chocolate chips. If you like darker chocolate, all the healthier, but I say get your favorite kind of chocolate chips, no matter how unhealthy. I'll also add this does not make a very good dough. If you're the type of person who make chocolate chip cookies as an excuse to eat cookie dough, stick to the old tollhouse recipe. Make sure the diatomaceous earth is "food grade." There is a non-food grade which you don't want to eat! Chia is a very healthy seed that has its roots in Aztec and other native cultures and is only now being grown in quantities enough for people to take it as a supplement. It's the same seed that you put on your chia pet, but you can get supplement chia seed at your health food store. Chia seed, when soaked, absorbs six times its weight in water. To make chia gel, put 1/3 cup of chia in a jar with 2 cups of water. Let soak overnight. You can add this healthy chia gel to all sorts of things for an extra health boost: mayonaise, jelly, eggs, cookie recipes, etc. This recipe calls for 1/2 cup chia gel. You can make just that amount or more, if you might use it other places. It will keep for a couple weeks in the fridge."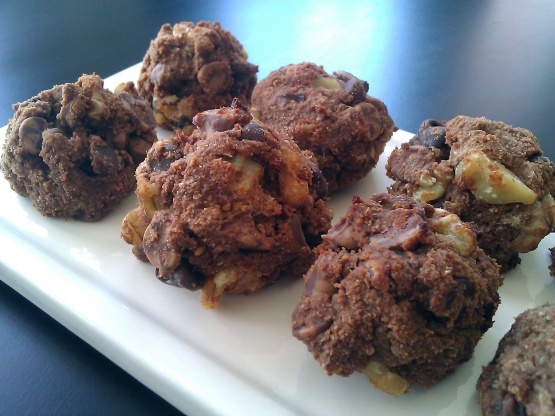 Almost Healthy and Surprisingly Good Chocolate Chip Cookies
1 recipe photo
3⁄4

cup coconut flour

3⁄4

cup oat flour (old-fashioned oatmeal sent through a food processor)

1⁄2 cup powdered milk
1⁄2

tablespoon food-grade diatomaceous earth

1⁄4

cup unsweetened cocoa powder

1⁄3 teaspoon stevia powder
1⁄4 cup softened butter
1⁄4 teaspoon sea salt

3

eggs
1⁄2 cup yogurt

2

tablespoons honey

1

teaspoon vanilla

2

tablespoons chia seeds (or 1/2 cup chia gel)

2

cups chocolate chips

1

cup chopped raw walnuts
Directions
If you don't have pre-made chia gel, soak 2 tablespoons chia seeds in 6 tablespoons water, to make 1/2 cup chia gel. This should be soaked several hours.
Preheat oven to 350°F.
Combine the coconut flour, oatmeal flour, powdered milk and diatomaceous earth, cocoa powder and stevia in a bowl. Mix and set aside.
Mix butter and salt in blender.
Add eggs to butter, but don't worry if it doesn't mix perfectly.
Add yogurt, honey, vanilla and chia seed and beat well.
Mix in chocolate chips and walnuts.
Place on cookie sheet and bake for 15-20 minutes.
get the genius kitchen app.
Watch on your iPhone, iPad, Apple TV, Roku, or Fire TV.
Learn More