"This is a recipe I originally found in the Recipe Link but it's also posted in various other cooking sites. I include this recipe here, because Honey Barbeque is one of my favorite sauces ever! Advice: Feel free to try the sauce with any piece of meat, other than riblets ( my personal favorite is chicken legs or chicken in general ) but avoid hard and chewy meat like beef (unless it's your thing). You need something soft, try pork. If you favor more spice than sweetness, cut down on the honey and increase the spice quantity for a sharp difference. Also, you can use 1 and 1/2 tablespoons of brown sugar, instead of molasses. By no means whatsoever, don't mix the sauce with the riblets in any stage of their cooking. Simply soak them in the sauce just before serving. Water and fat that meat excretes during baking will liquefy and spoil your sauce. You can cook them altogether in a deep frying pan though, just over low heat. Matches well with side dishes like french fries, coleslaw and very mild blue cheese or sour cream dip. Enjoy!"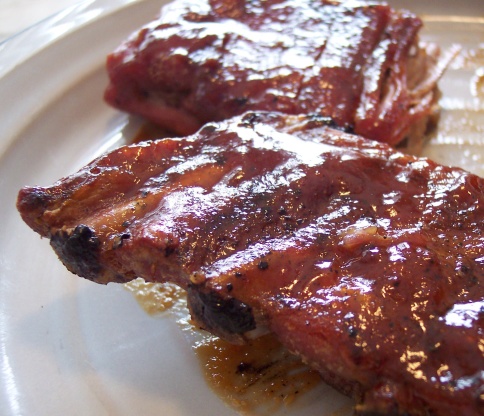 Alternate Honey Barbecue Sauce With Riblets (Applebee's Copycat)
1 recipe photo
Directions
Preparing the Riblets: First, season the riblets with salt, pepper and garlic, depending on how spicy you want them.
Then, sear the ribs on the grill/broiler until both sides are mahogany in color and the meat has begun to pull away from the bone (155°F internal temperature).
Place the riblets on rack in a deep pan/roaster.
Cover the bottom of the pan with a mixture of water and liquid smoke flavoring (4:1 ratio of water to liquid smoke).
Apply the mixture strategically, so as not to touch the riblets (it will make them bitter), just cover the space between them.
Seal the pan tightly with two layers of foil wrap to cover.
Slow cook the riblets in 275°F oven until their meat is tender. Time varies with how many riblets are being cooked, the pan used and your oven temperature. Plan on anywhere from two to five hours, but check to be sure. The slower, the better for this process. Just make sure an internal food temperature of 155°F is maintained.
You can also try covering the riblets with chopped onions, peppers and tomatoes. This also keeps them moist and adds a nice flavor.
When the riblets are fully cooked and tender, remove them from the oven and finish them off on grill/broiler until the marrow in the bone tips "sizzles".
Preparing the Honey Barbecue Sauce: Combine all the ingredients for the sauce in a saucepan and simmer them for 20 minutes.
Brush the riblets with the sauce and serve them warm.
get the genius kitchen app.
Watch on your iPhone, iPad, Apple TV, Roku, or Fire TV.
Learn More