"Just cut the recipe out of our local paper, so I haven't tried them yet. Different from the other Angel cookies here as this one has powdered sugar. Looks easy with a short ingredient list. Time includes the 30 min. refrigerator time, also don't know how to put the servings correctly but it says it makes 6 doz. so I put 72 servings."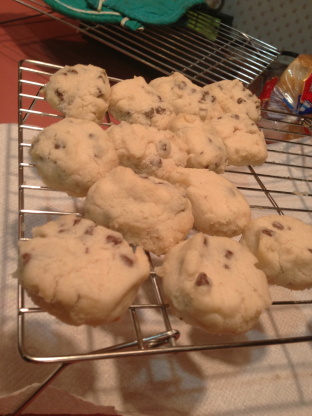 Angel Cookies
1 recipe photo
Directions
Preheat oven to 350.
In a large mixing bowl, sift together flour, powdered sugar and salt.
Add shortening, vanilla and chocolate chips and mix on low speed until just blended.
On floured countertop, roll dough into 1-inch cylinders.
Refrigerate dough for at least 30 minute or until firm enough to slice.
Line cookie sheets with parchment paper.
Remove dough from refrigerator and cut in 1/2 inch thick slices.
Place cookies on prepared cookie sheet and bake for about 10 minute.
Remove from oven and cool on wire rack.
Note: Food coloring can be added to batter to liven up the color of the cookies.