"Taken from "The Anne of Green Gables Cookbook", written by Lucy Maud Montgomery's granddaughter Kate Macdonald. I am posting this as it appears in the original book, which was written as a tribute to her father Stuart Macdonald (Montgomery's son). The recipes were written with precise instructions, geared for young cooks. All recipes were apparently tested by a 12 year old cook, with perfect results. Quote from the book: "Here's the cake Anne really meant to make. Be sure you use vanilla - not anodyne liniment!" Other recipes are available in a cookbook prepared by chef #756627 - book #243014 *NOTE*: Posting to add to the cookbook. I have not personally made this recipe. April 2011 - The servings has been changed from 8 to 16, as suggested by Caybaybay. :)"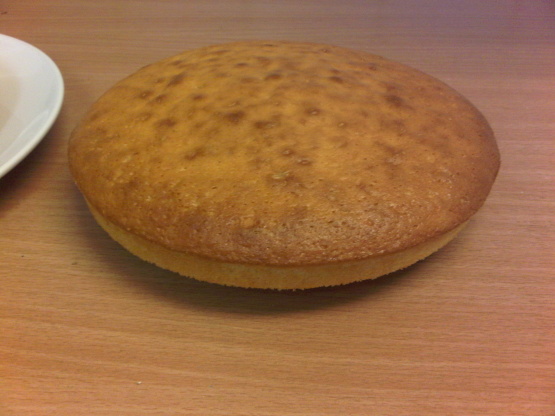 Anne's Liniment Cake - Anne of Green Gables
1 recipe photo
READY IN:

55mins

SERVES:

16

UNITS:

US
Directions
Equipment You Will Need:.
2 - 9 inch round cake pans.
sifter.
large mixing bowl.
measuring cups.
measuring spoons.
wooden spoon.
electric mixer.
small bowl.
rubber spatula.
toothpicks.
2 cooling racks.
oven mitts.
metal spatula.
Directions:.
Grease and flour the cake pans. Pre-heat the oven to 350*F.
Measure out the sifted four, baking powder, salt and sugar and mix together in the large bowl.
Add the melted butter and the milk to the flour mixture and stir with the wooden spoon.
Beat the mixture for 1 minute with the electric mixer.
Break the eggs into the small bowl. add them with the vanilla to the cake batter, then beat with the mixer for another 3 minutes, constantly scraping down the sides of the bowl with the rubber spatula.
Pour the cake batter evenly into the two cake pans. Bake for 25 - 30 minutes.
Test the cakes with a toothpick. When they are done, use oven mitts to take them from the oven. Let them cool in the pans for 10 minutes.
Slide the blade of the metal spatula around the edges of the cakes to loosen them from the pans.
Place one of the cakes on a cooling rack. Place a second cooling rack on top. Hold the two racks together and flip the whole thing over. The cake is now upside-down on the rack.
Gently lift off the pan and transfer your cake to a plate. Repeat with the other cake.
Let the two layers cool completely before frosting.