"I found these when I was looking for a recipe for Moe's Salsa Verde and they sounded so utterly perfect I had to post here so I could find them and try them out! Found on The Dabble. Prep time does not include time for the simple syrup to cool. It is honestly better to make the syrup the day before and let cool over night!"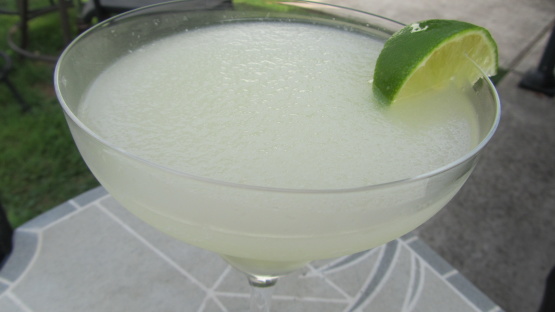 Annie's Margaritas!
2 recipe photos
Directions
In a small sauce pan boil the sugar and water until the sugar is completely dissolved, this should take about six to eight minutes. Remove from heat and cool completely. Once it has slightly cooled, transfer to a airtight container and cool in the fridge to hurry the process along.
Place ice in blender and add tequila, orange liqueur, lime juice and later add simple syrup depending on how sweet you like your drink. Blend to desired consistency. Take glasses from freezer, add more ice (if desired) and run a lime wedge around rim of glass, dip in salt and add mix to glass. Place wedge on the side if you want and voila!