"They were making this on our news channel. It's one of the anchormen's mom's recipe, that she has been making for years. Good for a brunch."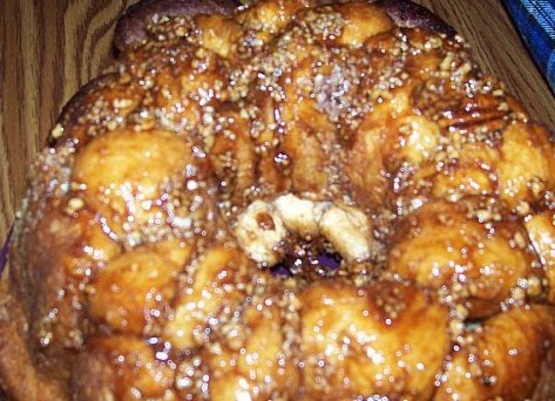 Another Yummy Monkey Bread
1 recipe photo
Directions
Prepare a bundt pan with cooking spray (buttered flavored), arrange pecans on bottom of pan.
Sprinkle 3 tbsp of brown sugar over the pecans.
In deep mixing bowl combine both sugars, cinnamon and mix well.
Melt butter and mix with vanilla.
Cut loaves in half and then into eights (each loaf should have 16 slices).
Roll each slice into a ball and dip in butter mixture.
Toss them into the sugar mixture to coat and layer on top of the pecan mixture in the pan.
Continue the process until all the slices /balls are coated and in the pan.
Let rise in a warm place until double in size.
Bake in a preheated 350°F oven for 30-35 minutes or until golden brown.
Remove from oven and invert onto serving platter.
Allow the bread to rest about 5 minutes before removing the bundt pan.
Serve warm.
May prepare this the night before, follow the directions and cover with wax paper, it will continue to raise in the refrigerator overnight.
After you take it out let it come to room temperature, then just follow the baking directions.