"This is a very old recipe and I have made it for years with no issues. But if you are in doubt, use a pressure canner. If there's enough acid added I don't think you need to pressure can but some newbies come along and "think" they are experts. :) This has to be one of the best antipasto recipes ever! The original recipe came from one of those cookbooks where everyone submits a recipe but it has been modified. The only reason for this is when my Dad and Sister were making it they weren't sure if you were supposed to drain the olives and pickled onions, ...they didn't and it came out great! The longer you can let it sit the better it taste. It is quite a costly recipe to make so what I do is buy the "sale" items throughout the year and make it up a bit before Christmas, that's why I'm posting it now---watch for sales :)"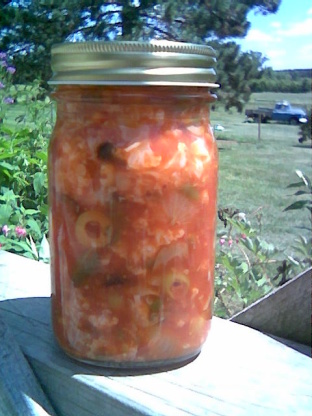 Antipasto
3 recipe photos
Directions
Mix first 5 ingredients in large pot. Boil 5 minutes.
Add next 4 ingredients, boil 10 minutes.
Add balance of ingredients. Try not to break up shrimp and tuna too much. Bring to just boiling.
Process in a hot water bath for 15 minutes.
Note: *Drain everything except olives and pickled onion juice. Biffy and Frank's flub (taste great.) Omit vinegar.
Optional - small amount of brown sugar, HP sauce, chopped garlic, hot pepper sauce (dried or fresh) WE NEVER USE THESE.
Something sure has changed with Recipe Zaar! When trying to put the ingredients in it was a big pain in the butt for the sizes. I've converted the grams to ounces but I didn't have everything in my cupboard to actually look at so I guessed. But most cans come pretty standard, and the "Frozen Shrimp" is a large bag -- it wouldn't let me put just "large.".
get the genius kitchen app.
Watch on your iPhone, iPad, Apple TV, Roku, or Fire TV.
Learn More