"My mother shared this recipe with me years ago. I don't know the origin, but after searching other peanut butter pie recipes I found nothing like it. The pie crust along with the crumbled peanut butter on the bottom are a big surprise."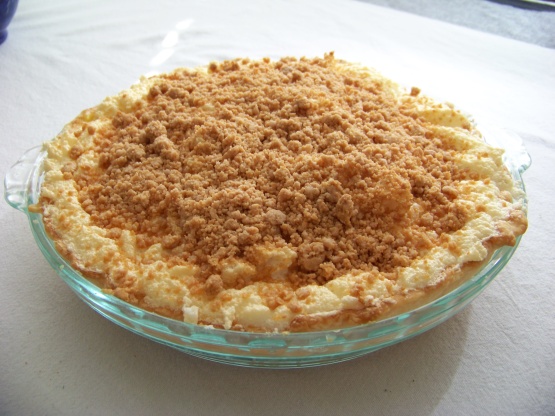 Anya's Peanut Butter Pie
1 recipe photo
Directions
Crust:.
Combine flour, powdered sugar, and butter. Place in a 9 inch pie pan. Bake 375 degrees for 12 to 15 minutes.
Filling/ Topping.
Mix peanut butter and 1/2c. powdered sugar until finely crumbled using a fork or food processer. Sprinkle 1/2 of the peanut butter/ powdered sugar mixture over the baked pie shell. (Save the other 1/2 for the topping over the meringue).
Custard:.
Combine cornstarch, sugar, salt, milk, and beaten egg yolks in a saucepan stirring constantly until it boils. Cook until slightly thickened. Remove from heat. Stir in butter and vanilla. Pour over peanut butter/ powdered sugar mixture.
Meringue:.
Beat 3 egg whites until stiffened and place over custard being sure to seal the edges of the custard. Sprinkle the rest of the crumbled peanut butter/powdered sugar mixture.
Bake at 350 degrees for 20 minutes. Cool thoroughly before serving.