"Anzac biscuits are a traditional Aussie biscuit that were baked by the wives and mothers during World War I and packed into food parcels to be shipped to the soldiers. They included basic staple items as food was rationed during the war and times were hard. Today they are enjoyed as a good everyday basic biscuit and many Aussies bake these cookies to remember our soldiers and history on Anzac Day 25 April. This recipe uses Australian metric measurements- 1 tablespoon = 4 teaspoons"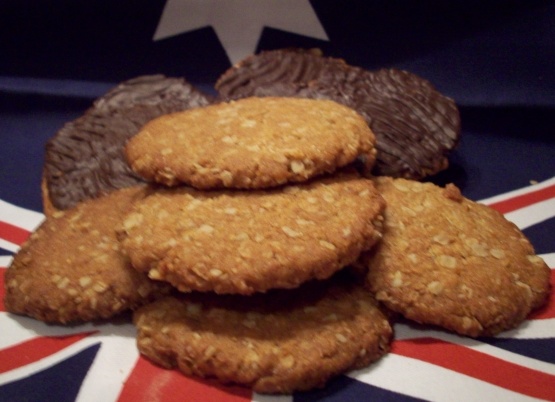 Anzac Biscuits (Cookies)
8 recipe photos
Directions
Preheat oven to 160C (if using fan-forced oven) or 180°C Line biscuit trays with a quality baking paper or lightly grease with butter.
Using a large mixing bowl -- combine the oats, coconut, flour and sugars.
Using a small saucepan or microwave -- melt the butter and golden syrup together. Set aside.
Using a cup -- mix the boiling water and bicarb soda together. Add this mixture to the melted butter. The mixture will foam up.
Add the butter to the dry ingredients and combine thoroughly.
Note -- if the mixture is too crumbly the biscuits will not hold together -- add a small amount of water. I've posted a photo of how I like my mixture to look. You should be able to get a tablespoon of the mixture and roll it together/push into shape of a cookie. Add too much water and your biscuits will flatten out totally during cooking.
Using your hands. Roll into balls and flatten slightly. These cookies do spread whilst baking -- so I usually place 12 to a cookie sheet/baking tray.
Place on baking trays and bake for 15-20 minutes or until golden brown. Cooking longer will give a crunchier biscuit or less time a softer biscuit. I like mine to be crisp. Total cooking time will depend on how many cookies/trays can fit in your oven at a time.
Cool on trays for 5 to 10 minutes before moving to a rack to cool.
If biscuits are too soft they can be returned to the oven and cooked further.