"I believe this is a Penzey's recipe. It has apples and almond extract. Great flavor!"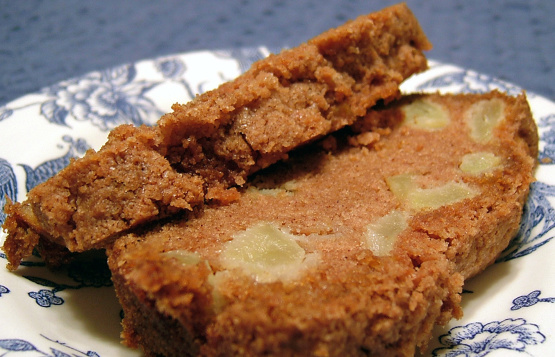 Apple Bread
2 recipe photos
Directions
Preheat oven to 350°. Lightly grease two 9x5" bread loaf pans and set aside.
In a large bowl, beat the eggs with an electric mixer until fluffy. Add the oil and beat until combined.
Add the vanilla, almond, baking soda, salt and 2 teaspoons cinnamon. Beat until thoroughly mixed.
Next, add the 3 cups flour and 2 cups sugar on low just to blend. Turn the mixer to high and beat until mix is smooth. The batter will be very thick.
Fold in the chopped apples, mixing by hand so the apples do not get too broken up.
Divide the mix between two pans. Since the batter is so thick, it is easiest to spoon the batter into the pans.
To prepare the topping, combine the 3/4 cup flour, 1/4 cup sugar and 2 teaspoons cinnamon in a small bowl.
Cut the butter into the mix with a fork (or your hands) until all ingredients are moist and crumbly.
Sprinkle equal amounts of topping on each loaf.
Bake for about 1 hour on the center rack of the oven. The loaf should feel fairly firm when touched in the middle, or cook an extra 5 minutes.
Remove from the oven and place on a cooling rack. Let cool 5 minutes before removing from the pans.
It is easier to slice the bread if you can wait until it is cooled. Makes 2 loaves.