"From a TOH recipe booklet on muffins. I love the bits of apple within the muffin and just LOVE the crunchy topping. I've used chopped almonds instead of the walnuts for the topping and it works great so feel free to adjust the nuts in the topping to your liking but don't leave them out as they are a key to the flavors of this muffin."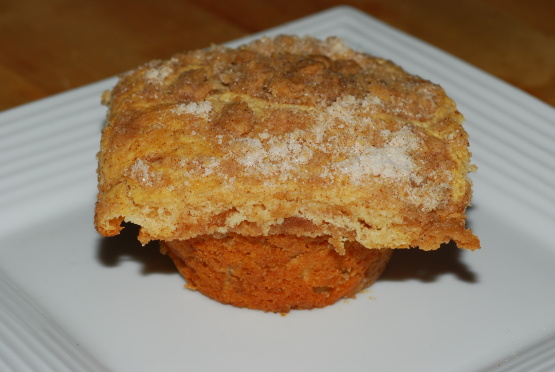 Apple Crunch Muffins
4 recipe photos
Directions
FOR MUFFINS: In a large bowl, combine the flour, sugar, baking powder, cinnamon, baking soda, salt, allspice, and nutmeg.
In another bowl, beat the eggs, sour cream and butter together.
Stir the egg mixture into the dry ingredients, just until moistened (do not overmix).
Fold in the diced apple into the batter.
Fill greased or lined muffin cups one-third full.
FOR TOPPING: In a bowl, combine the nuts, flour, sugar, cinnamon, and nutmeg. Cut in the butter until mixture resembles coarse crumbs.
Sprinkle about two-thirds of the topping over the batter in the cups.
Top with remaining batter and then sprinkle the remainder of the topping mix over each muffin.
Bake at 375F for 20-25 minutes or until toothpick comes out clean.
Cool for 5 minutes before removing from pans to wire racks to cool completely.