"I love oatmeal! There is something about eating a warm bowl of oatmeal that makes my soul happy. Growing up, and well into my adult years oatmeal consisted of oatmeal, heaps of brown sugar and 2% milk. Nowadays, I prefer to spice up my oatmeal with healthier ingredients! My kids love this (without brown sugar!!) and we hope you will to. If you fancy a sweeter oatmeal, feel free to add your own sweetener or more maple syrup. APPLES: Use your favorite (I used Cameo and they were tart and sweet) RAISINS: If you don't like them, leave them out. FLAX SEEDS: You can use whole flax seeds or flaxmeal. The flax can also be stirred into the oatmeal before transferring it to a bowl. NUTS: If you don't like pecans (or nuts in general) leave them out. I added raw pecan halves to my dish. You could also stir the nuts into the oatmeal before transferring it to a bowl. SOY CREAMER: You could use cow milk, soy milk or your favorite nut milk. We use the Silk Soy Creamer (for coffee) since it's thicker and so delicious. SERVING SIZE: Makes 1 large portion or two smaller ones. We eat big servings so this recipe is my breakfast (sharing bites with my three year old daughter). Happy Eating!"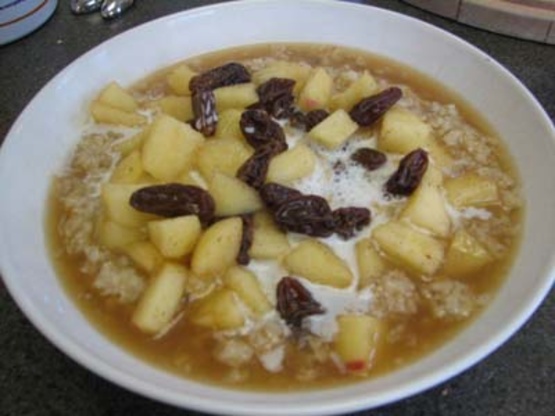 Apple Harvest Oatmeal (Vegan)
1 recipe photo
Directions
Peel & chop the apple into bite-sized pieces. Place apple, apple juice, raisins and maple syrup in a small saucepan. Cover and simmer over medium heat while you prepare the oatmeal. Apples should be tender but firm.
Place 1 cup of water in a small pot and bring to a boil. Add oats (quick cooking is fine) and reduce heat to low. Simmer until oats are soft and there is still a small amount of liquid in the pot. You don't want to end up with an oatmeal puck! :).
ASSEMBLY: Place chopped pecans and flax seeds in the bottom of a nice bowl. Add cooked oatmeal on top. Scoop apple/raisin mixture on top of oatmeal and pour any remaining liquid over top.
Pour soy creamer (or milk etc.) into center of bowl & enjoy!