"If I want something baked that isn't gluten-free, I hire my DMIL who makes the most adorable cakes and tarts. This tart's story is quite funny: My DFIL loved collecting wines, although he had no idea about which wine is storable and which not. He just loved making holidays at the Mosel and buy interesting looking Mosel-wines, generally white wines. Unluckily he mostly loved collecting the bottles, but not drinking the wine, so he left a whole cellar of wine bottles when he passed away. For about one year DMIL talked about somehow getting rid of those wines, making German "Weincreme" or giving them away as a present, because none of us liked that stuff. DH then pointed out that we couldn't give it away as a present as we didn't know whether the wine actually was still drinkable (if it ever had been). Finally DMIL decided to make this apple wine tart for a summer bbq we had. The afternoon she came over with the tart she was all red in the face, and uncovering the plate she giggled and said that evidently she had just catched the only bottle of *red* wine, and when she noticed her mistake it was too late. So instead of an all "white" tart we had this funny white and red one - which was a big hit! Every single female at the party asked for the recipe, and all agreed that it looks much more interesting with red wine than with white. Prep time is a guess because I didn't make the tart myself; it doesn't include resting time overnight"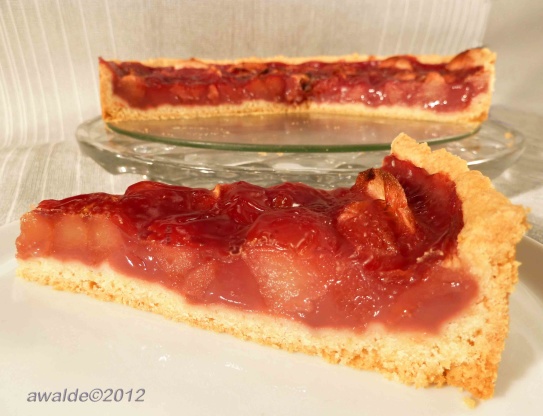 Apple-Wine Tart
2 recipe photos
Directions
Knead flour, 2.5 oz sugar, margarine, egg, vanilla and baking powder together to make a soft dough.
Grease the sides of a 9,5 inch springform pan and layer the bottom with nonstick paper; fill in the dough, covering the sides of the springform, too.
Peel the apples and cut into 1/8 wedges each, layer the dough evenly with the 1/8 apples.
Dissolve pudding mixes in some of the wine, then bring the rest of the wine with 7 oz sugar to a boil, stir in the pudding, bring to a boil again and remove from heat.
Pour wine-puddiing over the apples.
In a preheated oven bake the tart at 350° F for 2 hours (300° F for 90 minuntes in a fan assisted oven).
Let rest overnight.
With a sharp knife, cut along the sides of the springform pan, then remove the sides carefully and slip the tart onto a plate.
Decorate with whipped cream and nut brittle streusel (like on Frankfurter Kranz).
get the genius kitchen app.
Watch on your iPhone, iPad, Apple TV, Roku, or Fire TV.
Learn More