"From www.TopSecretRecipes.com Haven't tried it yet, tell me about it! (Bullseye is best for the bbq sauce!)"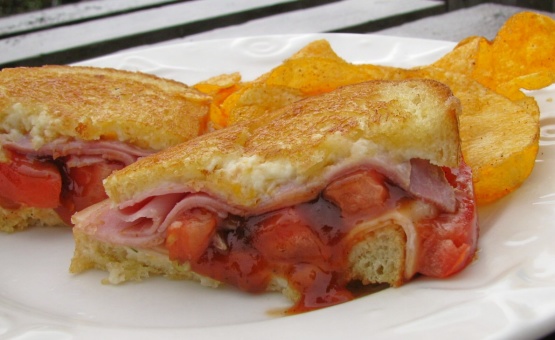 Applebee's Club House Grill
2 recipe photos
Directions
Spread the butter evenly over one side of each slice of bread.
Put one slice of bread, butter side down, into a preheated frying pan over medium heat.
Spread the mayonnaise over the unbuttered side of the grilling bread.
Sprinkle half of the Cheddar cheese over the mayonnaise.
Lay the turkey and ham in the pan next to the bread for about 30 seconds to heat it up.
When it's warm, lay the turkey on the cheese.
Place the tomato slices on the turkey.
Spread the barbecue sauce over the tomato slices.
Lay the ham on the tomatoes.
Sprinkle the remainder of the cheese over the ham.
Top off the sandwich with the other slice of bread, being sure that the buttered side is facing up.
By now the first side of bread should be golden brown.
Flip the sandwich over and grill the other side for 2-3 minutes, or until golden brown as well.
Remove the sandwich from the pan and cut in half diagonally.
Serve with additional barbecue sauce on the side.