"When I was little, my Dad would do my Mom a favor and run to the local bakery and pick up donuts and pastries for the kids so she wouldn't have to deal with breakfast; did he ever think about the sugar rush? Never mind; the teachers had to deal with that! The bakery he went to served donuts they called applejacks, and I always loved them way more than the chocolate covered cream filled yeast donuts! They also served superb bear claws and apple fritters! This is as close as I can come to their "applejack" recipe. They were always still warm when we got them from Daddy's truck into our stomachs! Yummy breakfast treats for weekends or vacations!"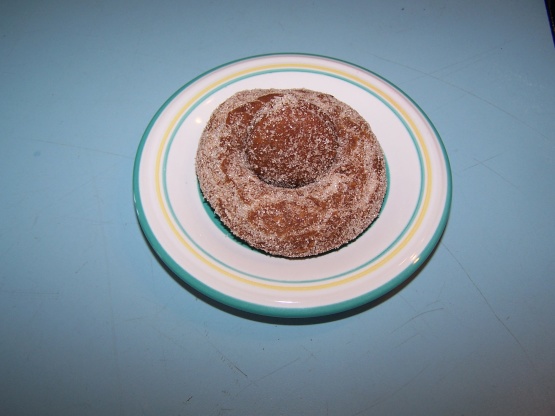 Applejack Donuts
3 recipe photos
Directions
Beat the shortening and brown sugar at medium speed of an electric mixer until blended.
Add the applesauce and egg; beat well.
Combine the flour, baking soda, salt, nutmeg and cinnamon.
Add to the shortening mixture. Beat well.
Roll the dough to 1/2 inch thickness on a lightly floured surface.
Cut the dough with a floured 2-1/2 inch doughnut cutter.
Pour the oil to a depth of 2 inches in a large Dutch oven.
Heat oil to 375 degrees Fahrenheit.
Drop in 3 to 4 doughnuts at a time.
Cook 1-1/2 minutes on each side.
Drain on paper towels.
Combine 1/2 cup sugar and 2 teaspoons of cinnamon.
Roll the doughnuts in cinnamon-sugar mixture.
Cool on wire racks.