"Christmas is coming. Time to start thinking about those cookie swaps."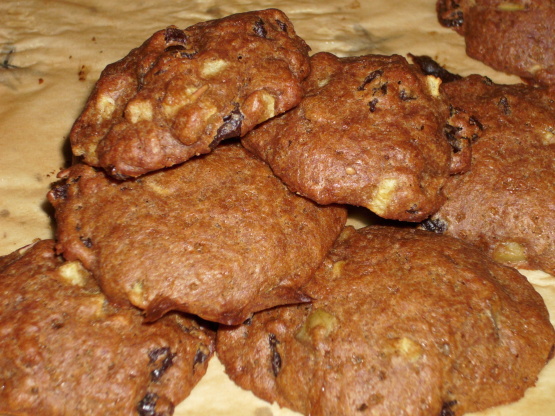 Applesauce Raisin Cookies
2 recipe photos
Directions
24Preheat oven to 375*. Grease 2 large cookie sheets.
On waxed paper, combine flour, baking powder, baking soda, cinnamon, allspice, and salt.
In large bowl, with mixer at medium speed, beat butter and sugars until light and fluffy. Reduce speed to low; beat in egg, applesauce, and vanilla until well combined. Beat in flour mixture just until blended. With spoon, stir in apple, raisins, and walnuts if using.
Drop dough by rounded measuring tablespoons, 1 inch apart, on prepared cookie sheets. Bake cookies on 2 oven racks 20 to 22 minutes or until lightly browned around edges and set, rotating cookie sheets between upper and lower racks halfway through baking.
While cookies bake, prepare Lemon Glaze:
In small bowl, stir confectioners' sugar and lemon juice until smooth.
Transfer cookies to wire racks. With pastry brush, brush glaze over warm cookies; cool completely.