"The apricot bread from childhood."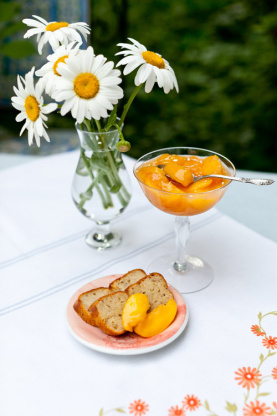 Apricot Bread With Walnuts and Peaches in Vanilla Sauce
2 recipe photos
Directions
Directions for Apricot Bread with Walnuts: Preheat an oven to 350ºF. Grease and flour a 1-lb (or two smaller pans) loaf pan.
In a bowl, stir and toss together the flour, baking powder and salt. Set aside.
In the bowl of an electric mixer fitted with the flat beater, beat the butter and sugar on medium speed until blended, 2 to 3 minutes. Add the eggs one at a time, beating well after each addition.
Reduce the speed to low and add the flour mixture along with the milk and lemon zest. Beat until blended and smooth, stopping the mixer occasionally to scrape down the sides of the bowl. Stir in the walnuts.
Spoon the batter into the prepared pan. Arrange the apricots halves, slightly overlapping. Bake until a toothpick inserted into the center of the loaf comes out clean, 40 to 50 minutes.
Remove the bread from the oven and transfer the pan to a wire rack. Cool completely, about 1 hour, before serving.
Just before serving, in a small saucepan over low heat, warm the honey. Brush the apricots with the honey. Accompany each slice with a dollop of whipped cream.
Directions for Peaches in Vanilla Sauce: In a 3 1/2-quart Dutch oven, combine the peaches, sugar, cornstarch and lemon juice. Scrape the vanilla seeds into the pan, add the bean and stir to combine.
Set the pan over medium-low heat and cook, stirring occasionally, until the mixture is just beginning to bubble and the sauce is slightly thickened, about 10 minutes.
Remove from the heat.
Remove the vanilla bean and discard. Let cool for at least 30 minutes before serving.