"When the rest of my family would have chicken parmigiana, I created this recipe for my one child who was lactose intolerant. And then it became a regular favorite requested by the whole family as well. It can be adapted for people who aren't lactose intolerant by just switching out the lactose-free milk for regular milk I normally double this recipe. Enjoy!"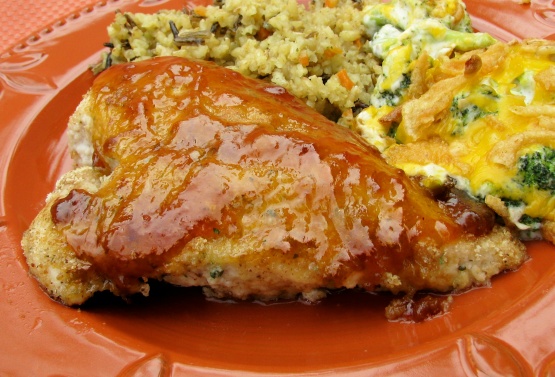 Apricot Chicken
7 recipe photos
Directions
Dip the chicken breast loins in the lactose free milk.
Then place chicken into the bread crumbs to coat.
Preheat the oven for Bake at 350°F.
In a skillet, on medium heat brown the bread crumb coated chicken until.
golden brown in the vegetable oil.
Placed browned chicken in ungreased baking dish in a single layer.
I melt the apricot preserves in a microwave safe cup, in the microwave at 20 sec. at intervals until it is in a semi-liquid form.
Then I drizzle the melted preserves over the chicken.
Bake in a 350 F oven.
For 30 minutes uncovered or until chicken is cooked thoroughly.
Enjoy!