"I found this one in a Cooking Light article and I just finished eating seconds. Which is something I usually can refrain from doing. But this was so yummy."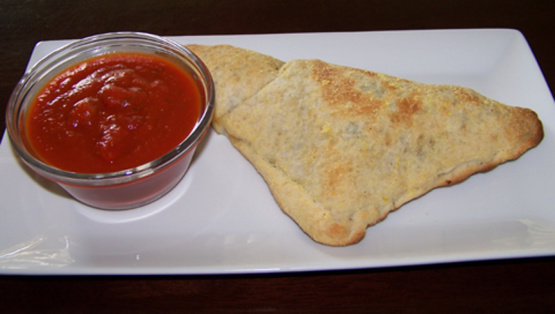 Artichoke Chicken Calzones
2 recipe photos
Directions
Preheat oven to 425 degrees.
Pat chopped and drained artichokes dry with papertowels.
In large bowl, combine artichokes, pepper, salt and garlic.
Add spinach, chicken & shredded provolone- Gently toss.
Line your largest cookie sheet with foil.
Pour olive oil over foil and brush or spread with back of spoon evenly over foil.
Sprinkle cornmeal over oil.
Unroll pizza dough onto prepared cookie sheet, use a roller pizza cutter and cut the dough into 6 even sections.
Cover and let sit 5 minutes.
Pat each section into 5 by 6 inch sheets.
Spoon mixture onto half of rectangle sheet making sure not to cross the diagonal.
Fold across the diagonal to make triangle calzones and squeeze edges of dough to create a seal.
Bake on center rack for 12 minutes or until golden.