Want more from Genius Kitchen?
Watch on your Apple TV, Roku, or Fire TV and your iOS, Fire, or Android device.
Learn More
"Prep time includes dough sitting and rising time, hands on time is about 10 minutes. When it comes to breadmaking, simplest can be best. this recipe has 4 ingredients (or 5 if you decide to use some whole wheat flour). I learned this in a breadmaking class, and have made it before for neighbors for Christmas. Many people are surprised that it is homemade... it's not difficult, it's just a matter of learning. Variations are listed in directions. If you would like to learn more about making great bread, I recommend Artisan Bread in 5 Minutes a Day, Amy's Bread, and The Bread Apprentice. Hope you enjoy this!"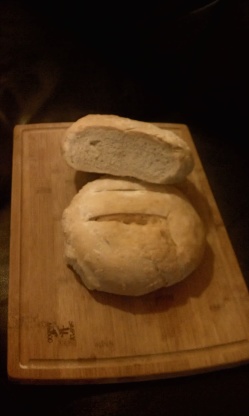 Artisan Basic French Bread and Variations (Overnight)
11 recipe photos
Directions
Mix and knead (I mix and knead in my Bosch for about 5 minutes).
Cover and let rise 12 hours.
Divide dough into 2 pieces.
Shape and let rise 2-3 hours (spray plastic with Pam so it won't stick when you uncover).
Preheat oven to 425 degrees for about 30 minutes if using a baking stone (using a stone will give the best results).
Slice tops. If you are not confident in slicing tops, slice before rising -- or dust with flour and use a very sharp knife -- you don't want the whole thing to collapse (brushing with water also works).
For ideal results allow to rise on a pizza peel dusted with flour and make a quick transfer to stone at baking time (or if that's a little scary, let it rise on parchment paper for an easier transfer).
Bake at 425 degrees for about 20 minutes, with steam first 10 minutes (spray water in oven liberally about every 3 minutes or see instructions below). Round or boule shaped loaves will take ~ 30 minutes to bake.
Best steaming method: put shallow pan on bottom rack and allow to preheat 10-15 minutes before baking bread. Pour 2 cups into pan so there will be steam throughout baking time.
Variations:
ASIAGO or PEPPER CHEDDAR: Add to basic recipe 1 cup grated or cubed Asiago or 1 cup grated or cubed Cheddar and 1 1/2 t black pepper.
BLACK OLIVE AND SWEET RED PEPPER: After first rising, knead in one sweet red roasted red pepper, thinkly sliced, and 1 cup coarsely chopped black olives (delicious with Kalamata or other deli olives if you like them!). Shape into 3 round loaves and place on cookie sheets sprinkled with cornmeal. Let rise and bake.
FRESH ROSEMARY BREAD WITH OLIVE OIL: Substitute q cup whole wheat flour for white flour, and add in 1/4 cup olive oil to dough. After kneading, knead in 1/3 Celsius fresh rosemary leaves, chopped. Let rise overnight, Shape into 2 or 3 boules (round loaves), let rise and bake. Brush warm loaves with olive oil. also good with 1 cup sunflower seeds.
MULTIGRAIN: Soak together 1/2 cup oatmeal, 1/4 cup wheat kernels, 1/4 cup rolled barley or wheat, 1/4 cup sunflower seeds, 1 T millet, 2 T molasses, 1/2 c more water for 20 minutes. Combine with 4 3/4 c whole wheat flour, 1 1/2 cups water, and 2 tsp yeast. Knead into the basic bread.
PIZZA CRUST: use 1/3 batch for a 14-16" round pizza, 1/2 batch for a rectangular pizza on a cookie sheet.
RYE BREAD/RYE ONION BREAD: Stir 3/4 cup water into 1 2/3 cup ry flour, let sit at least an hour. For onion bread, add in 1/2 cup chopped onion. Mix and knead this in after the first rising. Shape, let rise, and bake.
SEEDS, WHOLE WHEAT, AND FRUIT: Before mixing dough, combine in a small bowl 1 T flaxseed, 1 T millet, 1/2 c raisins, 1/2 c chopped dried apricots, and 1/2 c chopped pitted prunes. Add enough hot water to just cover. Mix dough, subbing whole wheat flour for hal the white flour. Knead till smooth, then knead in seed and fruit, rained, as well as 1/2 c sesame seeds and 2/3 c cooked wheat kernels. Let rise overnight. Shape into 2 disks, 2" thick. Score into 6 wedges each. Let rise until nearly doubled. Bake. Serve warm or cold, plain or with jam or cream cheese.
WHOLE WHEAT AND BARLEY: Mix 4 3/4 c whole wheat flour with 1 1/2 cups water. Add 1/2 t year and 1 cup cooked barley to basic bread dough. Shape, rise, and bake. Great for sandwiches. May also add in 1 cup chopped walnuts.
get the genius kitchen app.
Watch on your iPhone, iPad, Apple TV, Android, Roku, or Fire TV.
Learn More