"A great new interpretation of a New Orleans classic that combines Asian flavors to make a VERY tasty appetizer. The mayonnaise is great on sandwiches and amazing on a tuna fish salad or sandwich! Maria Elena is having an Asian meal & this is what she is serving for an appetizer with other odds & ends. Didn't allow for cooling time.(Use
Emeril Lagasse's Essence
or
Creole Essence / Bayou Blast
for the Essence seasoning) Emerils.com This may not be hot enough for a few of you - so why not add some of your magic potion and make it hotter; some hot chile pepper?"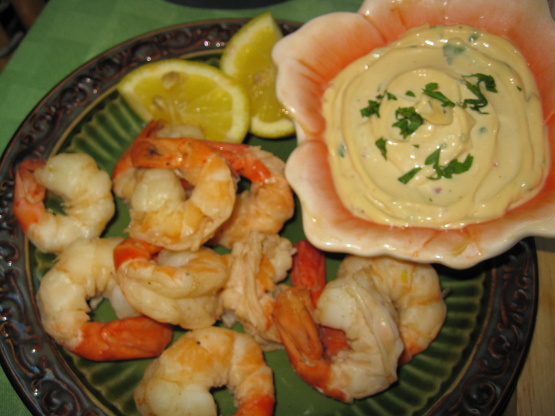 Asian Boiled Shrimp & Spicy Asian Mayonnaise
1 recipe photo
Directions
SHRIMP:.
Combine 6 cups water with the ginger, lemon shells, lemon juice, soy sauce, sugar, bay leaves, green onions, garlic, salt, black pepper, and crushed red pepper in a large heavy saucepan and bring to a boil over high heat.
Season the shrimp with the Essence and add to the boiling mixture.
Cook for 2 minutes, remove from the heat, and steep for 2 minutes.
Remove the shrimp with tongs or a slotted spoon and transfer to a large platter to cool.
When cool enough to handle, serve, either warm, at room temperature, or chilled, with the Asian Mayonnaise.
ASIAN MAYONNAISE: (Make ahead).
Combine the egg yolk, lemon juice, ginger, garlic and green onions in a food processor and process 15 seconds.
With the motor running, slowly add the vegetable oil through the feed tube.
The mixture will thicken.
Add the soy sauce, cilantro, pepper, sesame oil and salt.
Pulse once or twice to blend.
Serve immediately or store in an airtight container for no more than 24 hours before using.