"Submitted for RSC #9. This whole recipe was a new experience for me...I was so happy it worked out! I made it as a last effort for the contest after 2 failed recipes. I knew what fresh Asian flavors I liked together so that is what inspired the meatballs. I was impressed with how flavorful they turned out! They did end up a little hot so feel free to cut down on the peppers. I loved the rice noodles so much that they will be come a regular quick meal in my home. I love the suggestions from reviewers to bake the meatballs. Why didn't I think of that? I do think the sesame oil is a very important flavor enhancer for the noodles. Thanks to everyone who tried this for the contest!"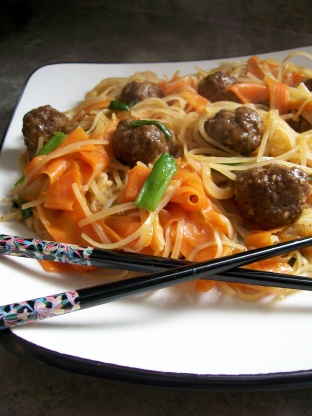 Asian Meatballs With Rice Noodles
7 recipe photos
Meatballs

1

lb lean ground beef
1⁄2

white onion, minced (about 1/2 cup-3/4 cup)

1

egg

3

fresh garlic cloves, minced

1

tablespoon fresh ginger, grated
1⁄2 teaspoon salt
1⁄4 teaspoon black pepper
1⁄2

teaspoon red chili pepper flakes

1

tablespoon soy sauce

3

tablespoons flour

Noodles

1

(6 ounce) package vermicelli rice noodles, rinsed in cold water (also called rice stix)

1

teaspoon sesame oil

2

fresh carrots, peeled and then peeled into strips

1

bunch green onion, cut into 1 inch sticks
1⁄4 cup cilantro, chopped (optional)

1

(14 ounce) can beef broth
soy sauce, to serve

chili oil, to serve

lime wedge, to serve
Directions
Combine meatball ingredients in a large bowl, mix well. Form 1-1 1/2" meatballs.
Place meatballs in a large 12" skillet in a single layer. Cook over medium high heat until browned all over and cooked through, about 15-20 minutes. Remove meatballs and set aside. Drain grease.
Rinse rice noodles in cold water until they go slightly soft. Set aside.
Cut green onions into 1 inch strips. Peel carrots and then use your peeler to peel down the rest of the carrots to make long thin strips. Chop Cilantro.
Heat sesame oil in the meatball skillet over medium high heat. Add vegetables and stir-fry for about 3 minutes until the carrots go limp.
Add beef broth and rice noodles, bring to a boil. Cook for about 5 minutes stirring the noodles until the broth is all absorbed and the noodles are soft.
Push the noodles to the center of the pan and place the meatballs around the edges. Heat for another 3 minutes until the meatballs are hot.
Serve with soy sauce, chili oil and fresh lime wedges if desired.