"Ready, Set, Cook! Hidden Valley Contest Entry. Refrigerated pizza dough makes a conveniently delicious crust for these Athenian Ranch Pork Empanadas. Filled with ground pork, red bell pepper, shallots, artichokes, parmesan cheese, feta cheese, Greek yogurt, and Hidden Valley Original Ranch Dressing-A combination that will throw a delicious Greek Party in your mouth! Easy to prepare and fast to cook!!!!"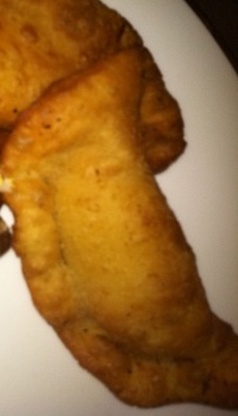 Athenian Ranch Pork Empanadas #RSC
1 recipe photo
Directions
Preheat oven to 400°F Line 2 cookie sheets with cooking parchment paper; Set Aside.
In a medium nonstick skillet, heat one tablespoon extra virgin olive oil over medium heat. Add fresh ground pork and cook until pork is fully cooked; about 6-8 minutes.
On a clean work surface, unroll refrigerated pizza dough. Roll or press dough 1/4 inch thick. Cut into 6 equal squares. In large bowl combine pork, chopped red bell pepper, shallots, artichoke hearts, greek seasoning, fresh parsley, Parmesan cheese, feta cheese, cayenne pepper, Greek yogurt, 1/3 cup Hidden Valley Original Ranch Dressing, kalamata olives, 1/2 teaspoon Sicilian sea salt, and 1/4 teaspoon cracked black pepper. Place 2 tablespoons ranch pork mixture on center of each pizza dough square. Fold each pizza dough square in half diagonally to make triangle; press edges to seal with tines of fork. Place on prepared cookie sheets. Spray empanadas with olive oil cooking spray, and sprinkle with the remaining Sicilian Sea Salt and cracked black pepper. Bake 12 to 15 minutes or until golden brown. Serve Athenian Ranch Pork Empanadas with Remaining Hidden Valley Original Ranch Dressing for dipping. Serves: 6, prep time: 20 minutes, cooking time: 15 minutes.