"Lining up my summer canning recipes to take stock of jars, lids, rings, vinegars & other supplies. This one certainly seem to have the right stuff from our garden - peppers, cabbage, onions anyway. Found this recipe in The Times-Picayune & was charmed with M.M.B.'s note accompanying this recipe she/he submitted. "I hope you aren't finished with relish recipes," writes M.M.B. from Luling. "I'm sending you the recipe I got from my Aunt Bettye Sue. She called it Dixie Relish. "Adding some of this relish to tuna salad or pasta salad gives it a little kick, and just adding it to a sandwich is great." She also adds it to potato salad, and says it's especially good on a turkey sandwich." The relish is "really not that hot," M.M.B. continues. "Removing seeds from the jalapenos helps keep it from being too hot." She makes this at least once a year and gives some to friends and family. "I have people begging for it!""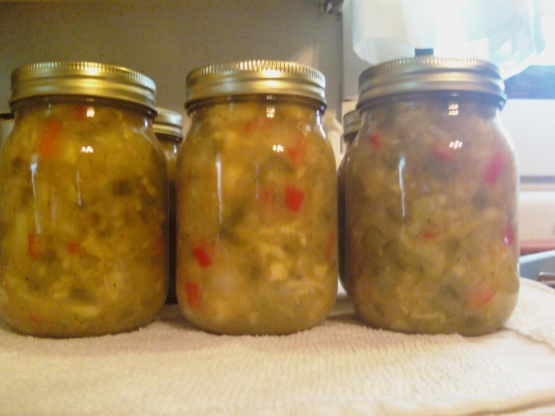 Aunt Bettye Sue's Dixie Relish
1 recipe photo
Directions
Remove the seeds from the jalapenos and chop really fine (wear gloves and open a window or door for ventilation, if needed). Chop all other vegetables. Dissolve canning salt in 1 gallon of water. Soak all chopped vegetables in the salt water mixture overnight.
The next day, drain vegetables well. While the veggies are draining, bring 1/2 gallon vinegar (minus 1 cup kept in reserve) to a boil with the sugar. Add drained vegetables and cook 10 minutes.
While vegetables cook, stir together the 1 cup reserved vinegar, mustard, pepper, mustard seed, flour, turmeric and celery seed. Add to the vegetable mixture and cook 5 more minutes.
Pour the hot mixture into hot sterilized jars. Process in a boiling water bath for 10 minutes.
get the genius kitchen app.
Watch on your iPhone, iPad, Apple TV, Roku, or Fire TV.
Learn More