"This recipe is a very old one, and a treasured memory of my Great Aunt Kathleen. They are SO GOOD! Store them in a tupperware container, and they last for 2 weeks or more, but they won't, because you'll be into them until they are gone... GUARANTEED :)"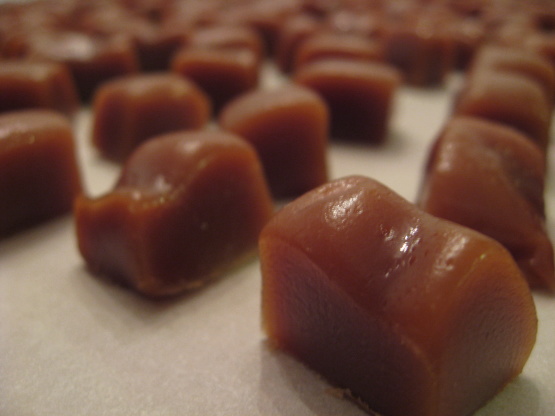 Aunt Kathleen's Caramels
1 recipe photo
Directions
Put butter, sugar, brown sugar, and Karo into pan. Cook over medium heat, stirring occasionally until it starts to boil.
After it starts to boil, turn down to med-low heat, and let boil for 10 minutes, stirring constantly so it doesn't stick or burn on the bottom of the pan.
Remove from heat, and add condensed milk. Stir well.
Put back on stove, and bring the temperature to the hard ball stage (250 degrees on your candy thermometer), (about another 10 minutes). (The brown sugar addition adds moisture to the molasses, so this is why the recipe needs to reach the hard ball stage instead of the firm ball stage, that most caramel recipes require).
Remove from stove, and add nuts and vanilla. Mix well.
Pour into a buttered pan (I use a 9x13" cake pan).
Cool completely, and then cut with a sharp knife.
Cut wax paper into 2x2" squares.
Wrap each caramel in wax paper and twist ends.
Refrigerate in a plastic container.