Want more from Genius Kitchen?
Watch on your Apple TV, Roku, or Fire TV and your iOS, Fire, or Android device.
Learn More
"The BEST BAKLAVA you will ever eat!...This recipe is as authentic as it gets, you will think you are in Greece when you take one bite of this heavenly pastry! Make it, and call it your own, and you will be proud you did!"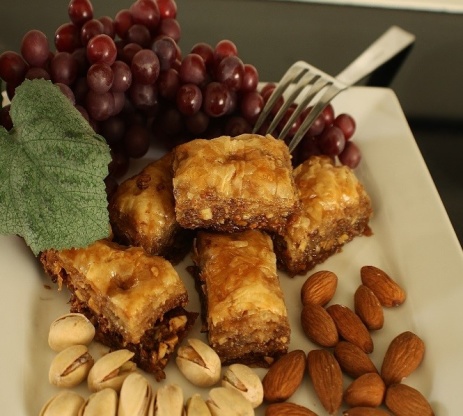 Authentic Greek Style Baklava
1 recipe photo
Directions
In a large size saucepan, combine 2 cups of sugar, the water, salt, honey, lemon juice, a cinnamon stick and 4 whole cloves, bring to a boil. Then reduce the heat to a gentle boil for 15 minutes. Then remove the cinnamon stick and the cloves from the water mixture. Set mixture aside and let cool completely.
In a small size skillet, spray with a nonstick cooking spray. Place on medium heat and add finely chopped almonds, stir until lightly golden. Remove from heat and toss them with the chopped pistachios and add 1/2 teaspoon salt, toss again to coat evenly with the salt and set aside.
Remove the phyllo dough from the freezer and let sit inside of its own wrappers for 30 minutes to thaw.
Gently unroll the phyllo dough on a flat surface and keep it covered with waxed paper and a damp towel so it doesn't dry out and become brittle while working. Once thawed, remove 8 phyllo sheets, fold, cover and refrigerate them for the top layer, and cover remaining sheets that you will be working with and set aside, covered.
In a small size skillet, melt 3 1/2 sticks of butter on low heat, keep warm while layering baklava.
Using a pastry brush, brush a 15 1/2 by 11 1/2 by 3 inch baking dish (lasagna pan) with some of the melted butter. Lay 2 phyllo sheets on the bottom of the pan, brush with butter, and repeat, using a total of 8 sheets for the first layer. Then sprinkle a handful of the nut mixture over the top of the phyllo sheets. Layer 4 more phyllo sheets, brushing each layer with butter, and sprinkle again with a handful of the nut mixture. Continue until all the phyllo sheets and nuts are used, being sure to brush each sheet with butter as you layer. Use the reserved 8 sheets of phyllo for the last top layer.
Preheat the oven to 300 degrees F. Using a long, very sharp knife, cut the baklava into small squares, or for a more elegant look, diamond shapes. For the diamond shapes: First make 6 evenly spaced lengthwise cuts. Cut straight down until the tip of the knife touches the bottom of the pan, and keeping the knife straight, cut in a straight line all the way to the other end. Next, cut diagonally across the lengthwise cuts to form diamond shapes, starting in one corner and making cuts until you reach the opposite corner.
Heat up the remaining butter until it slightly bubbles, then pour it evenly over the top of the pastry. Bake for 1 hour 15 minutes, or until evenly golden and flaky. Remove from the oven and spoon the cooled syrup evenly over the entire pastry. Cool in the pan, then serve pieces individually, placing them in decorative paper cups if desired.
Makes: About 64 pieces.
get the genius kitchen app.
Watch on your iPhone, iPad, Apple TV, Android, Roku, or Fire TV.
Learn More