"This recipe was modified from Paula Wolfert's cookbook. The barley flour gives the bread a more authentic taste but whole-wheat flour can be substituted."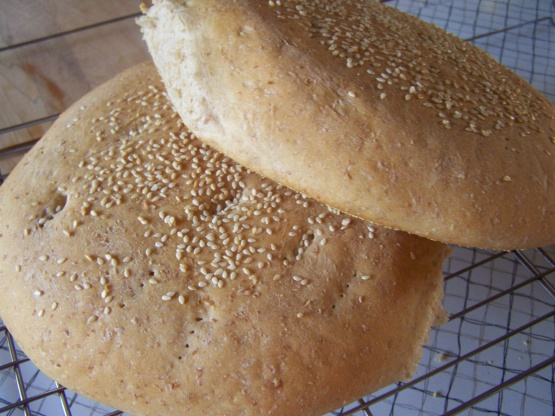 Authentic Moroccan Bread
3 recipe photos
Directions
Add the sugar to 1/4 cup of lukewarm water. Then add the yeast and stir to soften. Let it sit in a warm place until the yeast is bubbly & doubles in volume, roughly 2 minutes.
Mix the flours & salt in the large mixing bowl. After yeast is ready add it to the flour along with the milk. Add enough lukewarm water to the mixture to form a stiff dough.
Note:Flours differ in their ability to absorb moisture so no precise amount can be given. Add a small amount at a time. If you have added too much the mixture will be extra sticky and it will be hard to get off your hands. The right consistency should allow the dough to pull easily off your fingers.
Place the dough onto a lightly floured board & knead hard with closed fists, pushing outward. During the final part of kneading, add 1 tsp of cumin or sesame seeds. It will take between 10-15 minutes to knead the dough thoroughly. You will know it is ready when it achieves a smooth, elastic consistency. (If you are using an electric beater with a dough hook, knead 7-8 minutes on a slow speed.).
Take the thoroughly kneaded dough & form it into two balls & let it stand for 5 minutes on the board.
Sprinkle cornmeal onto two baking sheets & place to the side. Then lightly grease a mixing bowl with oil. Transfer the first ball of dough to the bowl. Roll the dough along the sides while rotating bowl with your other hand, this will make the dough into a cone shape.
Place the dough, wide end down, onto the first baking sheet. Flatten the cone with the palm of your hand to form a disc about 5 inches in diameter with a slightly raised center. Repeat with the second ball. Lightly sprinkle the remaining seeds on top of the bread.
Cover each disc loosely with a damp towel & let it rise for about 2 hours in a warm place. The dough will be ready when you can gently pole your finger into it & it will not spring back into place.
Preheat the oven to 400 degrees. Using a fork, poke the bread 3 to 4 times & place in the center shelf of the oven. Bake for 12 minutes, then lower the heat to 300 degrees & make 25-30 minutes more.
To give the bread a nice brown color, turn the oven on broil. Watch the bread carefully, once it is golden, turn it over to brown the other side. Remove from the oven & let cool.
Note: When done, the bread will sound hollow when tapped on the bottom.
get the genius kitchen app.
Watch on your iPhone, iPad, Apple TV, Roku, or Fire TV.
Learn More