Want more from Genius Kitchen?
Watch on your Apple TV, Roku, or Fire TV and your iOS, Fire, or Android device.
Learn More
"Welcome to Yummy 365 days happy cooking again. Last time, I has been published ''Salad Chicken in a Simple Way''. So today my special artice will tell you exactly how to make an Awesome Vietnamese Chicken Salad. First, you need to visit Asian market to buy something that you will need. You might be able to find everything you need otherwise you will need to go to some other supermarket. Good luck! Now you can see the ingredients list bellow and then follow my directions step by step:"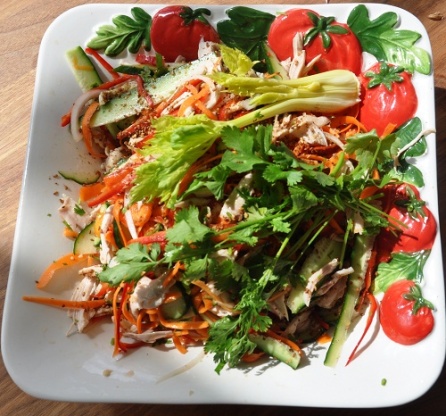 Awesome Vietnamese Chicken Salad
2 recipe photos
5

chicken breast halves (or 10 chicken thigh fillets)

1

tablespoon chili paste

1

red chili pepper, put it in a mortar and pestle, and then crush, set aside (Horn peppers)

4

tablespoons sugar (rock)

2

tablespoons rice wine vinegar

6

tablespoons fish sauce

4

tablespoons peanut oil (or sesame oil is ok)

3

teaspoons salt (or mushroom seasoning salt)

2

tablespoons sesame seeds
1⁄2 cup peanuts, chopped roasted

3

yellow onions, fried and not too browned (see tips)

1

small red onion, thinly sliced lengthwise

3

garlic cloves, finely minced

1

inch fresh ginger

2

limes (or 1 lemon)

1

Thai red chili pepper (or 1 small green hot chili pepper, fresh diced) (optional)

3

tablespoons Thai basil, chopped

3

tablespoons of fresh mint, chopped (Vietnamese mint leavesi)

2

celery (2 sprigs, thinly sliced)

3

of fresh mint (Cambodia mint, 3 sprigs, chopped, this is fragrant knotweed, called Rau ram in Vietnamese grocery st)

3

coriander sprigs, a special one, called Ngo gai, chopped

1

seedless cucumber, also thinly sliced in lengthwise (use 1/2- 1 in option)

2

carrots, larger, grated (or thinly sliced in lengthwise)

1

daikon radish (turnip)

2

cups cabbage (Asia cabbage)

3

bell peppers, use half of each only (mix colors)

2

cups bean sprouts

1

cup purple cabbage (finely shredded)

5

fresh lime leaves (Julienne)
Directions
Tips & Sugesstions:
Peanuts: In a mortar and pestle, slightly crush the peanuts ( visible pieces of peanuts for a crunchy texture).
Mushroom seasoning salt brings a very distinct, earthy flavor to the sauce. You can find it at gourmet specialty stores or in most Korean markets.
Frying onions is quite easy. You have to chop the onion first, and then heat about 1 inch of canola oil in a small skillet. Fry the onion in the hot oil, stirring frequently to prevent the onion from burning until the color is evenly golden brown. Drain the oil on paper towels. Set aside, if you want to make much more at once, you can do it and then keep in a box to use for next time.
Pickles Daikon and Carrot is great for this salad, so if you have time, please make those pickles ready, you can use them for many different kind of foods.
Daikon (white radish) is an Asian turnip that looks like a large white carrot. This root is perfect for making broth for the natural sweetness it provides. Discard the root when the broth is ready.
Vietnamese mint has a very different flavor from regular mint, the taste is much better too. It also has darker vein markings on the leaves.
Rau ram and ngo gai are Vietnamese coriander leaves, you can find them at the Asian market very easy in Vietnamese grocery store.
To prevent the herbs from darkening, chop them at the very last minute, toss them into the salad and serve immediately.
Now you have everything you need, are you sure? Okay! Let's start!
Preparing the chicken: Pour 2 litres of water into a pot and boil then add chicken breasts, 3 tablespoons salt, ginger, white onion, if you could add anymore vegetables which have unami flavor like carrot, leeks, turnips etc…that would be perfect (don't worry if you don't have) cook until the chickens are well done.
Remove the whole chickens from the pot. Let them cool a bit until you can handle them without discomfort and then sliced into thin 5 cm lengths.
To avoid chicken meat of the fishy taste, wash with warm water, salt and then boil the water before add chicken into the pot.
Salad sauce: In a bowl, combine: Chili paste: 1 tablespoon (option). Horn pepper or red hot chilli scrushed (to have red color for the sauce). 4 tablespoons chunk rock sugar. 1 tablespoons rice wine vinegar. Lime juice: 4 tablespoons. Fish sauce: 6 tablespoons. 3 Garlic clove finely minced. Hot water: 2 cups. Mix well, and then test if the salinity, light, sour, sweet, taste characteristics are stable and moderate.
This is not easy to make this sauce. Even with local people.
Here i will tell you some ways to make a perfect one.
1) The best way to do is make a glass of lemonade with sweet taste, add minced garlic, red hot chilli scrushed mixed into the lemonade. Then slowly pour the fish sauce in the salad sauce also test the taste at the same time until it tasted sweet, bitterness, sour, salty.
2) You may need follow this second way if this is the first time you make the salad sauce ( 30gr sour juice ( lemon, vinegar), 30gr sugar, 30gr fish sauce, 100gr warm water) galic minced, red hot chilli scrushed.
If you don't have vinegar, just add more lemon juice.
It will be more simple for you at the next time, when you got used to it, but need to remember an important tip that always put galic minced, red hot chilli scrushed in the lemonade first, then pour fish sauce on later. So after you are done, galic, chilli will float on and have a beautiful look. If you put the galic minced, red hot chilli scrushed on first, then pour vinegar, lemonade into later? The garlic and chilli will sink to the bottom.
Dosage depends on individual taste, try to adjust it appropriate as your own taste. The way you feel the best.
Vegetable: Carrot and Daikon (white radish) grated (mixed with 1 / 2 teaspoon salt, squeeze by hand in 1 minute), then washed out the salt, squeezed them dry, set aside carrot and Daikon.
In a large bowl, combine: Peanut oil or olive oil is ok: 6 tablespoons. Fried yellow onions (see tips), not too browned: 3 tablespoons. Red onion, thinly sliced lengthwise: 1 small. Lime: 4 needed to make 4 to 6 tablespoons of freshly squeezed lime juice. Seedless cucumber: 1/2. Carrots and Daikon ( squeezed dried). Daikon turnip, peeled and half of the daikon shredded: 1. Asia cabbage, finely shredded: 2 cups. Bell pepper: 3 ( mix colors), use half of each only ( Seedless). Bean sprouts: 2 cups. Purple cabbage ( finely shredded): 1 cup. 5 lime leaves ( Julienne). 3 tablespoons Vietnamese coriander – Rau Ram (chopped). Mix well.
When you're ready to serve: Add all the chopped herbs and seeds in the list bellow into the mixed vegetable bow above:
Vietnamese mint leaves, chopped: 3 tablespoon.
Celery leaves: 2 sprigs, thinly sliced celery.
Ngò gai : 3 sprigs, chopped.
Fresh coriander (cilantro) leaves, finely chopped: 1/2 cup.
Thai basil, chopped: 3 tablespoons.
Sesame seeds: 2 tablespoons.
Chopped roasted peanuts: 1/2 cup.
Pour salad sauce slowly into the mixed vegetable bow, not pour all the sauce, please, you have to check the salinity, light, sour, sweet, taste characteristics again and make sure everything are ok. Toss well, more salt (if needed) and Chilli( if you want).
Dressing and topping:.In a larger plate, use hand or clamp, chopsticks, pour the salad into it and sprinkle the peanuts around. Set a few sprigs of celery leaves, fresh coriander (cilantro) leaves, on top.
Is the salad setting on a white plate and you still want it to have great look? Just trim a horn chilli or a large tomato to shape it become a flower, plug it on top of the salad.
If you don't have enough vegetable? Try to make chicken salad in a simple way, the previous artice that I wrote.
Vietnamese Chicken Salad is a great salad and for me it takes 35 to 40 minutes to complete. You may feel it look quite difficult, but it's really simple. Be patience and don't give up.
Eat with chopsticks and enjoy!
get the genius kitchen app.
Watch on your iPhone, iPad, Apple TV, Android, Roku, or Fire TV.
Learn More