"A delicious BLT sandwich prepared either with bacon or vegetarian bacon. I came up with this recipe after having just come home from the farmers' market with a large bag of fresh produce, a rumbly tummy, and determination on my face. If you're taking the vegetarian route, you can use Morning Star Farms' brand fake bacon ("facon") or we prefer to use tempeh bacon because the slices are thick. For regular bacon, if you're a black pepper lover, try pepper bacon from the deli! My brother suggested the optional avocado and sprouts."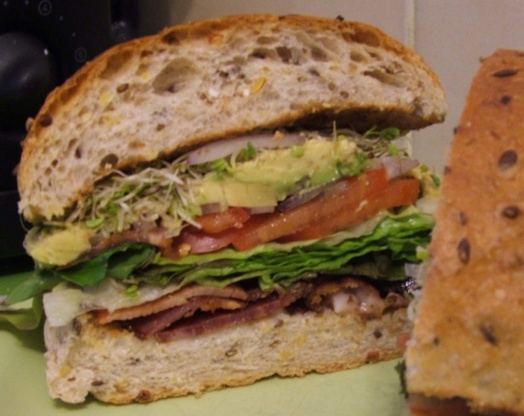 B L T Sandwiches Supreme
1 recipe photo
Directions
Cook bacon until crisp and set aside on a paper towel to soak up the grease, if necessary.
You can toast or leave untoasted the bread. Cut bread into sandwich slices.
Spread a little bit of mayonnaise or pesto onto one side of each slice of bread.
Layer the bacon, the salad greens, the tomatoes, the red onion, and basil leaves, the avocado and alfalfa sprouts if using onto one slice of bread. I use about four basil leaves for each sandwich. Season sandwich with salt and pepper if desired.
Place the other slice of bread on top and very gently push down on the sandwich.
Cut in half or in quarters.
Serve with a smile on your face.