Want more from Genius Kitchen?
Watch on your Apple TV, Roku, or Fire TV and your iOS, Fire, or Android device.
Learn More
"This is the decadent version of Easter Bread that I grew up with and that I have made for my family, and that they will make for theirs. My Aunt was married to a nobleman in Spain and used to supply her brother (my dad) and my mom with the saffron for this bread when I was a kid. That was back when the eggs ran free and their yolks were yellow! Remember that? I know, you can get them now but they are so expensive! And saffron, well, needless to say having a coffee can full of money buried in the garden wouldn't hurt for this one! Personally, I save all year for it! And use the coffee can at the end of it all (no-I don't really bury it in the garden!) Try this, you'll love it! Every Easter this is different for me - it's a learning curve I guess. I just know there is no other bread like it!"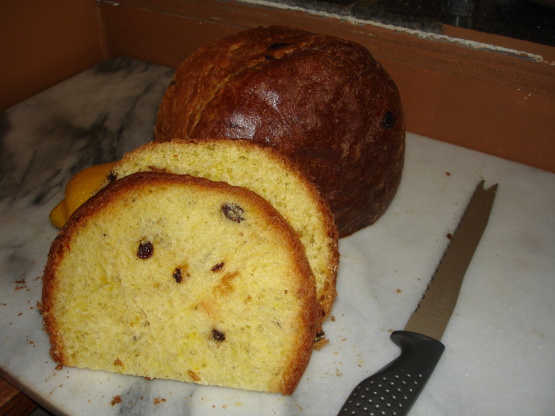 B. Voycheshin's Easter Bread With Saffron and Raisins
3 recipe photos
Directions
Scald the milk and leave to cool.
Set raisins in water to reconstitute.
Combine warm water, sugar and yeast. Let stand until frothy, approximately 10 minutes.
Beat the cooled milk and first amount of flour well with beaters in a very large bowl with a tight fitting cover.
Add the yeast mixture to the milk and flour, beat well then cover and let stand for at least 30 minutes or up to 2 hours.
In a small bowl mix together the warm melted butter, oil, vanilla, lemon zest, lemon juice and saffron. Allow this mixture to steep and strengthen its flavor.
Meanwhile, separate the eggs and put the yolks in a medium bowl with the two whole eggs (reserve the whites for another use, but you do need one later). I TRY TO BUY FREE RANGE EGGS FOR THIS USE SO THAT I AM SURE TO HAVE THE YELLOWEST YOLKS. Beat the eggs and yolks until they are frothy but not stiff. Add the sugar and salt and continue beating until both are dissolved.
Add the butter/oil/saffron mix to the eggs and beat well.
Now, combine the egg/butter mixture into the yeast and flour that was set aside earlier and beat this well.
Take this moment to drain and pat dry the raisins that have been soaking, and toss them in the second amount of flour so that they do not sink (THIS MAY BE AN OLD WIVES TALE, BUT I DO IT ANYWAYS BECAUSE MY MOM TOLD ME TO, AND AT THIS POINT I THINK YOU SHOULD TOO).
Begin adding the flour to the egg/butter/yeast mixture one cup at a time and beat well between each cup. Beat until you can beat no more.
I don't have a Kitchen Aid so at about 3 cups I have to stop beating with beaters and resort to stirring by hand. I find that a flat hand held spatula helps, but you've got to do it to get all the flour in and distributed evenly.
When all the flour is blended evenly you add the raisins to the batter, you want to distribute them throughout, but don't want to break them either, so be gentle.
This will be less like a dough and more like a very thick batter, but with oiled hands and a floured board you should be able to knead it.
Turn this batter out onto a WELL FLOURED BOARD, and with oiled hands knead it LOTS AND LOTS AND LOTS.
Oil the dough and place it back into the bowl, cover it tightly and let it stand until it has doubled (60 min).
Punch the dough down and form it into loaves.
Let the loaves double in size (50 min).
Bake the loaves in a preheated 400F oven for 15 minutes, brush with some of the egg whites (beaten) then turn down the oven to 350°F Continue baking for 30-40 minutes until the loaves are hollow sounding.
Personal notes:.
Grease loaf pans well.
Remove the rim from a coffee can and bake these loaves in them for an authentic round loaf, be sure to keep the loaves below 1/2 full in the can or you will have a mushroom top.
This bread makes extra-ordinarily good cinnamon buns.
This bread also makes the most supreme French Toast.
get the genius kitchen app.
Watch on your iPhone, iPad, Apple TV, Android, Roku, or Fire TV.
Learn More