"Ready, Set, Cook! Reynolds Wrap Contest Entry. Pour a glass of sweat tea, sit back, close your eyes and you can almost here the cicadas humming while you enjoy this Creole inspired dish, and because it's cooked and served in Reynolds Wrap clean up is so easy that you can linger on the porch a little longer. To bring back that feeling in the dead of winter place the packages on a baking sheet and cook in a 400 degree oven, and although 1 1/2 lbs. of shrimp is plenty, everyone always wants more."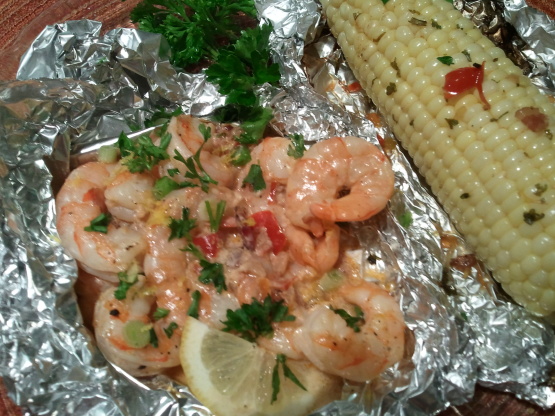 Back Porch Bayou Shrimp & Corn #RSC
1 recipe photo
Directions
Over medium high heat sauté the diced bacon in a sauce pan until it just starts to crisp.
While the bacon is cooking dice the onion and then add to the pot. While the onion is cooking dice the red pepper and add. Mince the garlic and add.
Remove the zest from the lemon and set it aside and then add the juice from the lemon to the sautéed vegetables along with the wine, Worcestershire sauce, black pepper and Creole seasoning. Stir in 2 tablespoons of the butter, reduce the heat, and allow to the sauce to simmer, stirring occasionally, while preparing the corn.
Put the remaining 2 tablespoons of butter in a small bowl. Add 1 tablespoon of the sauce and mix in 1/2 of the green onion, parsley and lemon zest to make a compound butter for the corn. Tear off 4 rectangles of heavy duty Reynolds wrap that are about 3" longer than each ear of corn is lengthwise and then place each ear in the middle running lengthwise and rub the corn all over with the compound butter (I find my hands are the best tool for this), and seal each ear up tightly so that the butter doesn't leak out while cooking. Place the corn on a preheated hot grill and allow it to cook for about 7 minutes with the lid down.
Meanwhile remove the sauce for the shrimp from the heat and stir in the heavy cream and then in a medium sized bowl mix the shrimp with the sauce. Tear off four 12" squares of heavy duty Reynolds wrap and spread 1/4 of the shrimp in the middle of each square. Taking the foil by two corners at a time, fold the foil over the shrimp to make "boats".
Turn the corn and place the shrimp boats on the grill, and cook them both, covered, for about 8 minutes more. Allow the corn and shrimp to rest for a few minutes before serving as they will be very hot. To serve, open the shrimp packages and sprinkle the remaining green onion, parsley and lemon zest over the shrimp.
get the genius kitchen app.
Watch on your iPhone, iPad, Apple TV, Roku, or Fire TV.
Learn More