"We host a big open house at Christmas, as well as church socials, football parties and unexpected invasions of hungry teenagers through the year. This dip seems to be everybody's favorite. It can also be used as a spread on crackers. The receipe has been tweaked many times and is now relatively low-fat for a snack of this type. Enough for 30 to 50 enthusiastic friends! Keeps well in refrigerator for several days."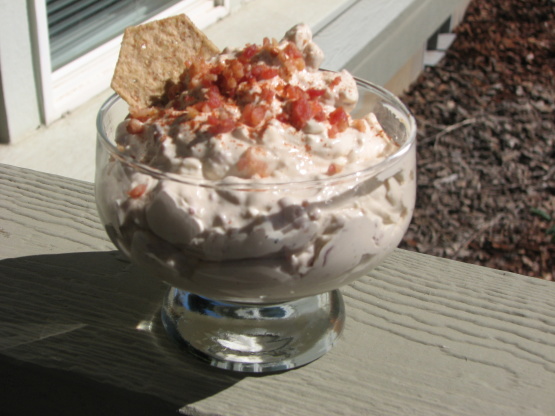 Directions
Beat cottage cheese with mixer until smooth. As an alternate method, the cottage cheese can be pureed in a blender.
Combine sour cream, cream cheese, and pureed cottage cheese in large mixer bowl.
Mix first on low and then on medium until thoroughly creamed together. Scrape sides of bowl as needed.
At low speed, slowly add Claud's sauce and then shredded bacon. Mix until well combined, scraping bowl as needed.
Refrigerate several hours (preferably overnight). Stir briefly by hand before serving with chips or crackers.