"Shrimp simmered in garlic-thyme butter with warm Cuban bread for dunking."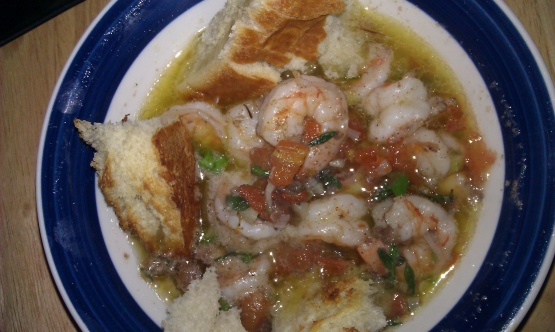 Bahama Breeze Fire-Roasted Jerk Shrimp
1 recipe photo
Directions
Heat oven to 500 degrees F.
Stir beer, allspice, minced Scotch bonnet pepper, minced garlic, thyme and sliced green onions in 1-quart baking dish. Fold in the shrimp, coating well. Drizzle melted butter over the shrimp. Slice bread into 1-inch-thick slices and place on top.
Put baking dish with shrimp and bread on middle rack of oven. Remove from oven when bread is golden and shrimp is bubbling hot, 4-5 minutes. If oven is small, heat pans separately.
Important Note:Use gloves when mincing Scotch bonnet peppers. Then remove gloves and wash hands thoroughly.