"Good old-fashioned baked apples. A great winter dessert and also gluten free. This recipe makes 6 baked apples. You can substitute different fruit and nut combinations, eg sultanas and sliced almonds. These are extremely hot when removed from the oven I usually allow them to sit for about 10 minutes. Any extra apples can be stored in the fridge and reheated in the microwave."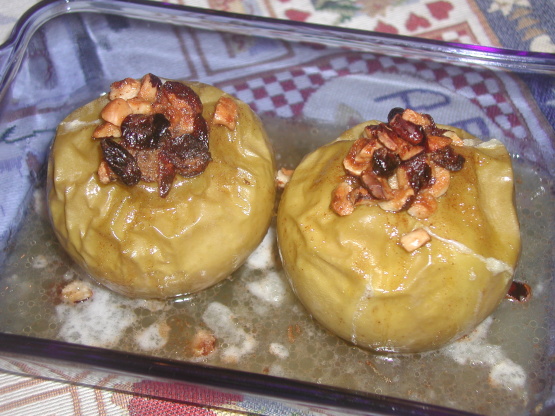 Baked Apples (With Chopped Hazelnuts)
7 recipe photos
Directions
Preheat oven to 180°C ( 350°F ).
Core the apples, using an apple corer. If you dont have a corer, use a sharp knife leaving a wider opening at the top than at the bottom. There is no need to remove the apple skins.
In a mixing bowl, combine the sugar, butter, hazelnuts, raisins, cinnamon and zest.
Stuff the apples firmly with the fruit mixture. Pack the apples as much as possible and then pile any leftover mix into mounds on top of the apples.
Place the apples into a baking dish, casserole or cake tin. Use a dish that fits them as snugly as possible-this will stop them from falling over. I usually use a pyrex pie/tart baking dish.
Spoon 1 teaspoon of honey/syrup over each apple. I usually just guess the amount for each apple and use a pouring top bottle of honey. Pour the water into the bottom of the dish.
Bake for 30-40 minutes, or until the apples are soft.
Serve drizzled with any syrup remaining in the bottom of the dish.
Serve with cream, ice-cream or custard if desired.