"This soup is my version of Demos' Restaurant's baked chicken soup. I found a recipe for basic chicken soup and changed it to mimic what we were looking for! Demos' is located in Murfressboro, TN, and we live in Memphis, so I have never been able to try them side by side. However, I do know that this is yummy and filling. PLEASE NOTE: as stated before, I DO NOT add veggies to this dish, because the soup at the resturant does not have any in it. However, I am sure that some added carrots or celery would be yummy. Also, double the flour and butter to make a thicker soup. We like ours less creamy. For the chicken, I either use leftover baked chicken or I buy a cooked rotisserie chicken from the grocery store and pull all the chicken off of that. I have never tried canned chicken and I do not recommend it for this soup!"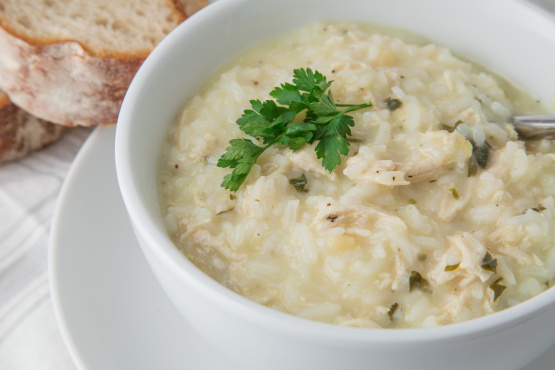 Baked Chicken Soup
5 recipe photos
Directions
In a large pot, melt the butter or margarine.
After the butter is melted, mix the flour in until smooth.
Slowly pour in chicken broth whisking or stirring continuously until no lumps remain.
Add the shredded cooked chicken, salt, pepper, garlic powder, and Italian salad dressing mix; bring to a boil.
Reduce heat and simmer for 12 minutes.
Add the milk, lemon juice, white wine and parsley, if desired.
Reduce heat to low, add the cooked rice and cover.
Cook until rice is heated through.
ENJOY!
SOME SPECIAL NOTES:.
I do not add veggies to this dish, because the soup at the resturant does not have any in it. However, I am sure that some added carrots or celery would be yummy. Also, double the flour and butter to make a thicker soup. We like ours less creamy. For the chicken, I either use leftover baked chicken or I buy a cooked rotisserie chicken from the grocery store and pull all the chicken off of that. I have never tried canned chicken. If anyone uses canned, let me know how it turns out!