"Recipe from Penzey's Spices catalog. Yummy! --Overnight soaking of the bread is what causes the dish to puff up and be very creamy when baked. If you don't have overnight, at least let it soak a few hours."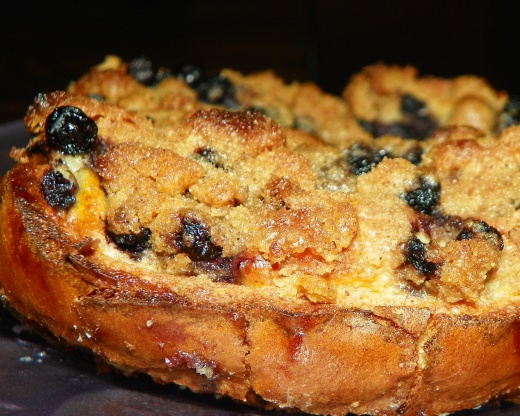 Baked French Toast With Fruit
1 recipe photo
Directions
Lightly grease 9x13 pan.
Cut the bread in 3/4-inch slices.
Layer in the pan, fitting snugly. In a bowl, lightly beat the eggs, sugar and vanilla.
Stir in the milk.
Pour over bread; turn bread slices over.
Cover and refrigerate overnight.
In the morning, pre-heat the oven to 375 degrees.
In a bowl, combine the flour, brown sugar and cinnamon.
Cut the butter in bits, add to the mix and rub together to make a crumb topping.
Remove the pan from the fridge, carefully turn the bread pieces over and scatter mixed berries evenly over the bread.
Sprinkle with crumb topping.
Bake at 375 degrees for 35-40 minutes, until puffy and golden.
Enjoy!