"I created this recipe one year when I needed to serve 75 fourth graders at their annual Valentine's Dance. It was a huge success with the kids. See if your picky eaters will enjoy it! I serve it over rice."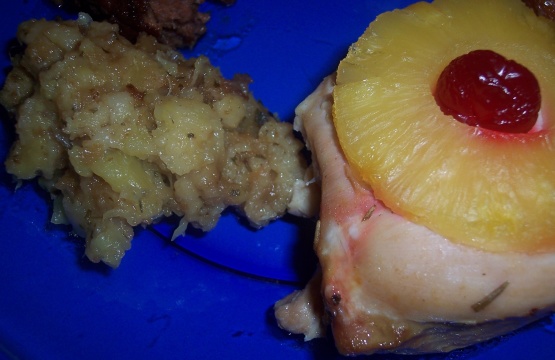 Baked Hawaiian Chicken
1 recipe photo
Directions
Preheat oven to 400°F.
Rinse chicken and place in a shallow casserole dish or 9X13 pan. Sprinkle chicken with salt.
Drain pineapple, reserving juice.
Mix pineapple juice, garlic, cornstarch, Worcestershire sauce, Dijon mustard and rosemary until cornstarch is smooth.
Pour sauce over chicken.
Arrange pineapple slices over the chicken and place a cherry inside of each pineapple center.
Cover the pan and bake for 30 minutes.
Remove the cover and bake for 5 minutes longer.
Spoon sauce over the chicken (and rice) when serving.